From starting out as a marketer thinking 'how big can I grow this?', Alan Cheah has become an entrepreneur with purpose for urban transformation. This is his story.
When you're young and buzzing with energy, venturing into network engineering in a pre-WiFi era may be a creative death sentence. Alternatively, it might bore you to no end – which was the case of Alan Cheah's early career.
Today, the chief executive officer finds himself spearheading Malaysia's first home-grown car-sharing app, GoCar Malaysia. While Grab offers the service of a ride to your destination, GoCar offers you quick access to the nearest car-to-rent.
Perhaps the only aspect tying these vocations together is technology, for which Alan always had an inclination. He ventured into training, made a maid-booking app, and consulted regional businesses before being presented with the offer that would define the next phase of his career: joining the founding team of Malaysian Global Innovation & Creativity Centre (MaGIC). Here, he helped grow the company while honing his own skills as a communicator, leader, and marketer.
"It was great working with Cheryl Yeoh because she brought along networks and resources from the US, and introduced me to a lot of friends who helped me grow back in MaGIC. She brought a different mindset," he recalls.
On his way out of MaGIC, Alan was approached by an entrepreneur with an interesting proposition. TJ Tan had been growing a mobility app and it was ready to see the world – all that was needed was the right man to helm it.
Ready, set, GoCar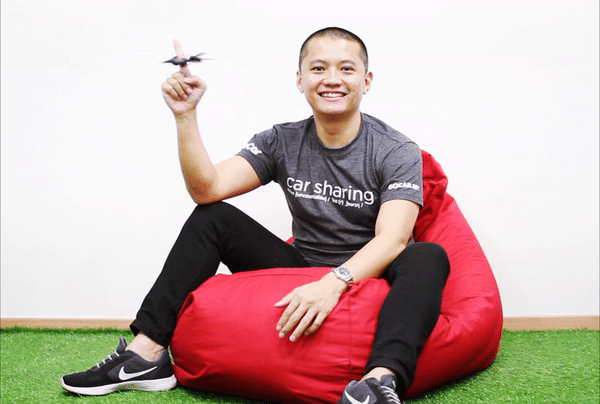 "GoCar started out of MaGIC's basement – we did the testing, put the first sticker on the first car," Alan now reminisces. "But at the time, it was the first car-sharing platform in Malaysia. We had to go with the flow to make sure we stayed afloat."
Coming from a marketing background, Alan was thrust into a whole new ballgame. "Being CEO means you do everything," he jests.
His humour is often laced with a truthful dose of sarcasm, and when he hears a remark in kind, the ensuing laughter is indiscriminate. You can tell he's the sort of guy who'd choose a whisky (or three) with a good book, or a weekend with his wife and dogs, over a night of socialising.
When he focused his personal energy on the fresh slate that was GoCar, Alan discovered and grew into his new role, especially as a leader and problem-solver. His style certainly holds water in its diversity: driven by data, but running on humanity.
"We don't just throw these numbers into the ecosystem – they're based on demand," he says of the company's growing fleet. GoCar went from five cars in five locations, to over 300 cars in over 100 locations today. Most recently, 150 Renault Capturs were added to the collection of Nissans, used by over 21,000 members nationwide. "We only pump in more cars when users pass a benchmark of utilisation."
This means approaching expansion on a state-by-state basis, serving high-demand areas near existing public hotspots.
With Mayflower, we created a network that allows them to support GoCar's vision with their knowledge and resources.
GoCar allows drivers to rent a car at fixed rates, in three easy steps, entirely through their phones. At RM 14.90 hourly and RM99 daily, it can be considered for running errands, emergency trips, or weekend getaways. However, as is often the case with new tech services, adaptation is held back by user resistance to change.
If you're a city creature, comfort is likely prime to convenience. Let's not forget that cars still serve as a status symbol and collector's item, so it's attached to emotion. Going carless, on the other hand, is a logical choice for many.
Alan says, "We were lucky that Grab started a couple of years before. It let people know that these innovations are worth a shot; to not be scared of technology anymore."
This makes GoCar a technology company above all else – and in tech, it's all about getting the right people. Luckily for GoCar, it is backed by one of the biggest names in the game. Mayflower Car Rental provided the green launching pad since February 2016, bringing with it a host of automobile expertise.
"With Mayflower, we created a network that allows them to support GoCar's vision with their knowledge and resources," Alan tells, proudly reporting that their partnership is now one of mutual interest and respect.
It's about people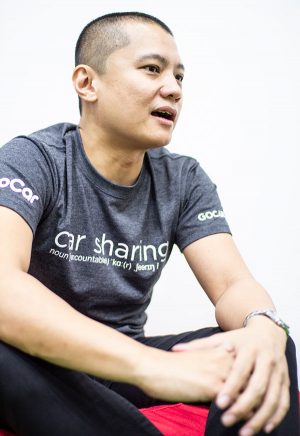 Prioritising the interest of local communities translates to a home advantage of sorts for this Malaysian brand. "It is not just about the commercial value of whatever we're doing. What's exciting is that every time I go out and talk to people, I feel the passion in society," Alan comments of shifting norms in transportation today.
He's a big fan of pioneering change himself – between the time he invests in GoCar, and the talks he delivers to students and executives alike, Alan is deeply engaged in the ecosystem he operates in. He expects nothing less from his team. It has (well over) tripled in size from the original team of five, which is why Alan stresses on sustaining a healthy workplace culture that can be carried on.
At first glance, there seems to be a rather casual culture typical of start-ups. It may be backed by a Warisan Tan Chong Holdings subsidiary, but GoCar's identity is clear: it's young, it's relevant, and it's here to get the job done.
Everyone has to be empowered to make decisions, only then are they encouraged to take responsibility for their actions.
As Alan eases into a bright red bean bag, jokes are thrown around about how they are essential start-up meeting room furniture. In conversation with Alan, though, it's easy to see that this mentality goes beyond the superficial. GoCar isn't just a transportation disruptor. In fact, it aims to be a game-changer – not merely by itself, but with other key players and policymakers.
However, it's safe to say this vision wasn't always well-defined. Like the technology it is built on, it took shape through heavy testing and fixing.
"After all my own failures and lessons, I now teach my team three main values: transparency, clarity, simplicity. These allow us to communicative freely because we trust each other. Everyone has to be empowered to make decisions, only then are they encouraged to take responsibility for their actions," Alan says, linking his leadership style and objective.
From a marketer starting out, thinking 'how big can I grow this?', Alan has become an entrepreneur with purpose. "Every player in the transportation landscape can play a part in resolving traffic jams, car park issues, car ownership issues, while practising civil mindfulness," he says, hoping to see collaborations grow in GoCar's future.
While there is certainly an increasing demand for GoCar's service, most city travelers are still getting in their cars every day. A couple of years down the road since its inception, though, Alan is optimistic of the platform's future. Mindsets are changing, he insists – soon owning a car will no longer be a priority, but an option.
Among the four millennials in the room, two of us turned out to be non-driving commuters. His point seemed to prove itself.
Download the GoCar app on App Store or Google Play, and use the exclusive promo code FIRSTCLASSE to enjoy RM30 off. This promotion is valid until December 31, for one-time booking at least 7 hours in advance.
Check out the GoCar app on the official site.
Photography: Gan Yew Chin