The philosophy that drives Akâr is to welcome flavours and techniques from both East and West, with French cuisine as a vessel.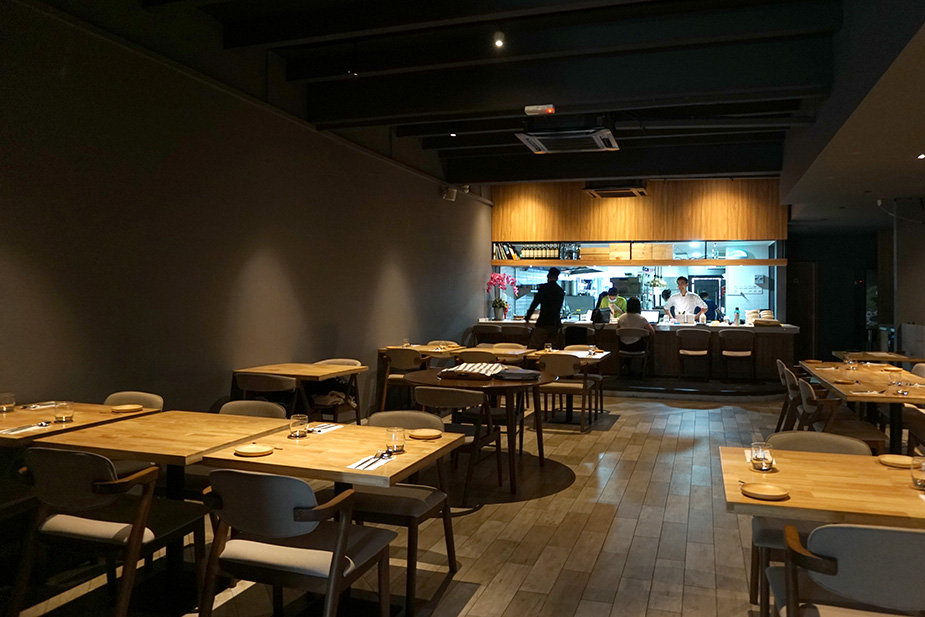 What comes to mind when you think of French cuisine? The silken, butter-laden waves of Robuchon's pommes purée, or perhaps a serving of offal from a Lyonnaise bouchon? Akâr dining at TTDI turns fine French fare on its head, combining European and Asian flavours and techniques to create a cuisine that welcomes a multi-dimensional approach.
Leading the charge is Japanese-educated Chef Aidan, who spent his stage in France before returning to Malaysian soil to cut his teeth at reputable restaurants such as Ed.ju and DC restaurant. His approach when creating the 2 carte blanche menus now being served at Akâr is not just a showcase of the knowledge he obtained throughout his travels, but also an encouragement of different ways in approaching food and cooking styles.
You may also like: Ed.ju brings tradition with a side of badassery with 'contaminated' omakase
What better way to experience an exciting 5-course meal than a wine pairing? Curated by Akâr's operations manager and sommelier, Dibin, we kick things off with an aperitif to whet the appetite. Dry vermouth meets sweet and effervescent ginger ale to create a highly refreshing cocktail, with a thin slice of Bentong ginger to lend a mild spice to the aroma and palate.
Treasures from the land and sea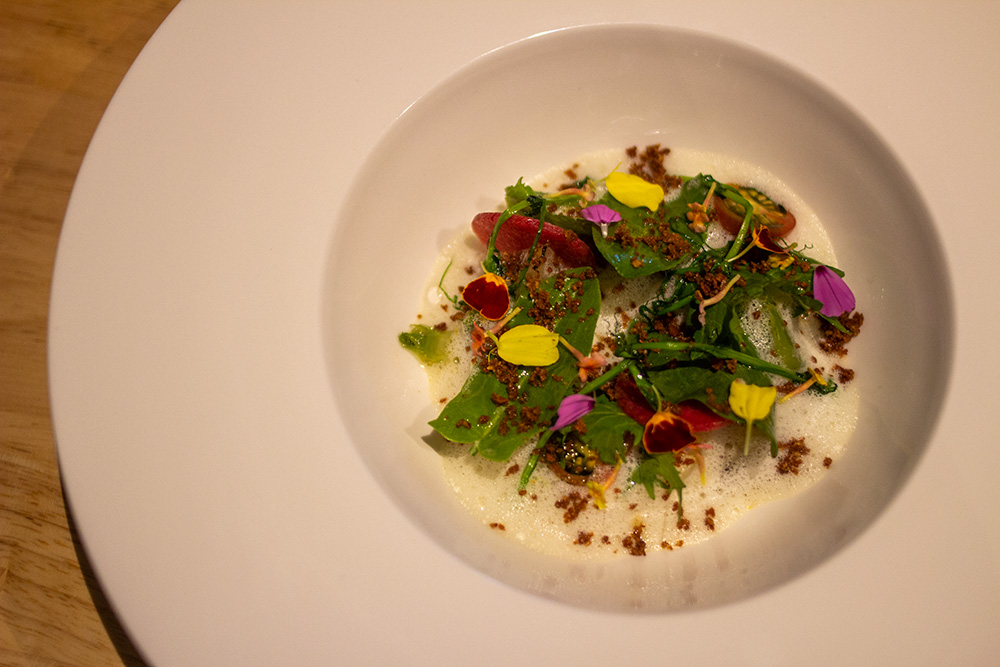 For the first course, we tuck into a bouquet of vegetables that have been picked from the terroir of Cameron Highlands, with tufts of fine, oyster foam tucked in-between. Inspired by the gargouillou salad, this beautifully arranged dish is a vibrant gathering of roots, leaves, and flowers that celebrates the treasures of the earth. We are advised to not toss the salad, but instead gingerly pick up the vegetables such as grilled kohlrabi, french beans, radish, and osmanthus to savour the many textures and flavours each ingredient has to offer. The Miyagi oyster foam provides a heady yet umami-rich depth to the dish without being overpowering, and a fine dusting of nutritional yeast gives it a savoury, nutty kick.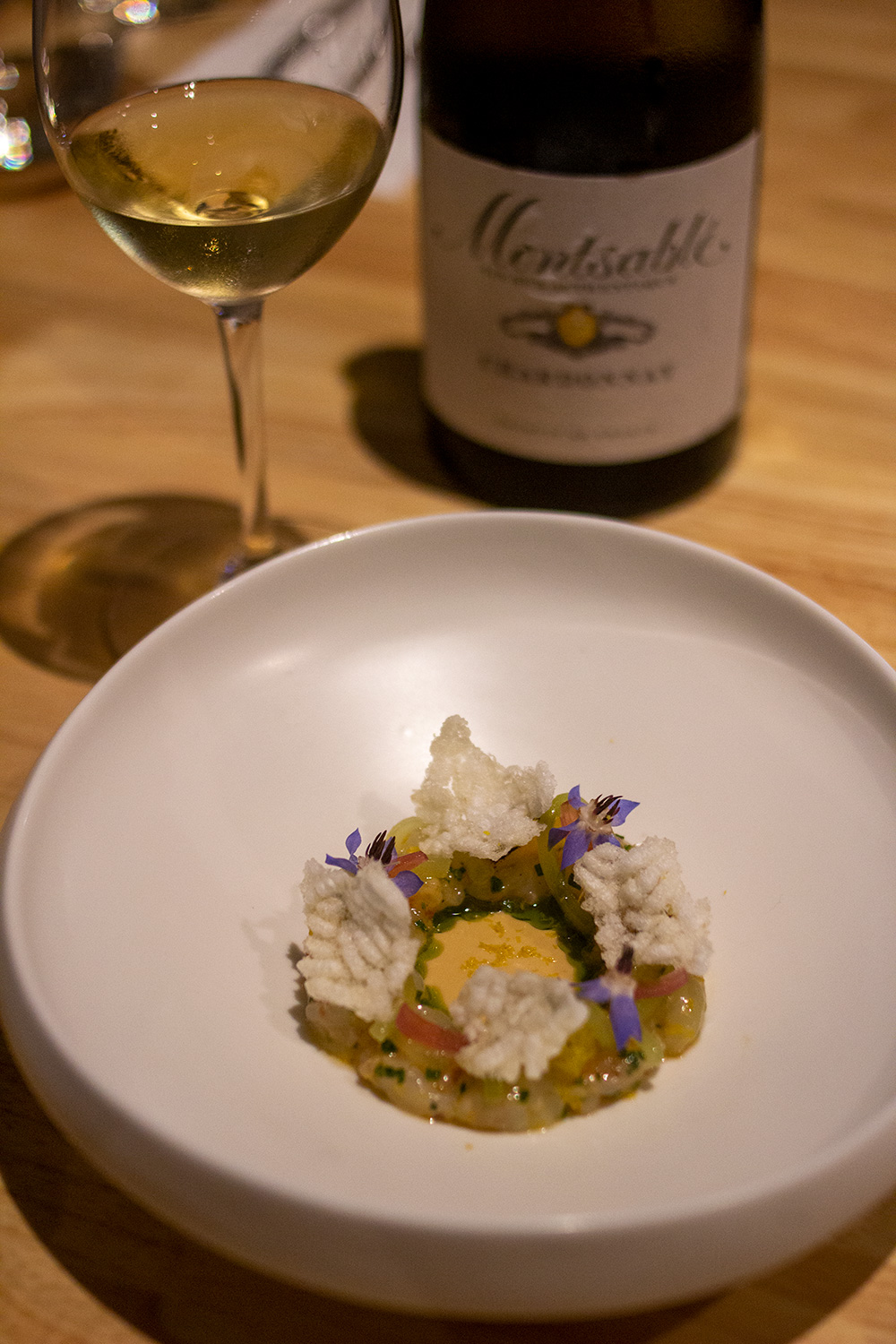 Next comes the shellfish dish, which reinterprets elements of our local Chinese porridge. A ring of Japanese botan prawns circles a dollop of fermented beancurd, topped with jasmine rice crackers and burnt orange zest. Chef Aidan advises to first try the dish from the outside in, and in doing so we're immediately introduced to the deep savouriness from the dressing, bolstered by the creamy sweet prawns. The sprinkling of orange zest and cilantro oil lightens the entire dish, making it sing with a symphony of contrasting flavours.
Naturally, Dibin pairs this dish with a fruity Montsablé Chardonnay from the Languedoc region, that boasts a punchier freshness compared to our aperitif. The sweet aroma of juicy, ripe pears immediately hits the nose and shines on the palate, followed by fleshy white peaches. Its light minerality and acidity marries perfectly with the botan and fermented beancurd, ending with a delightfully clean finish.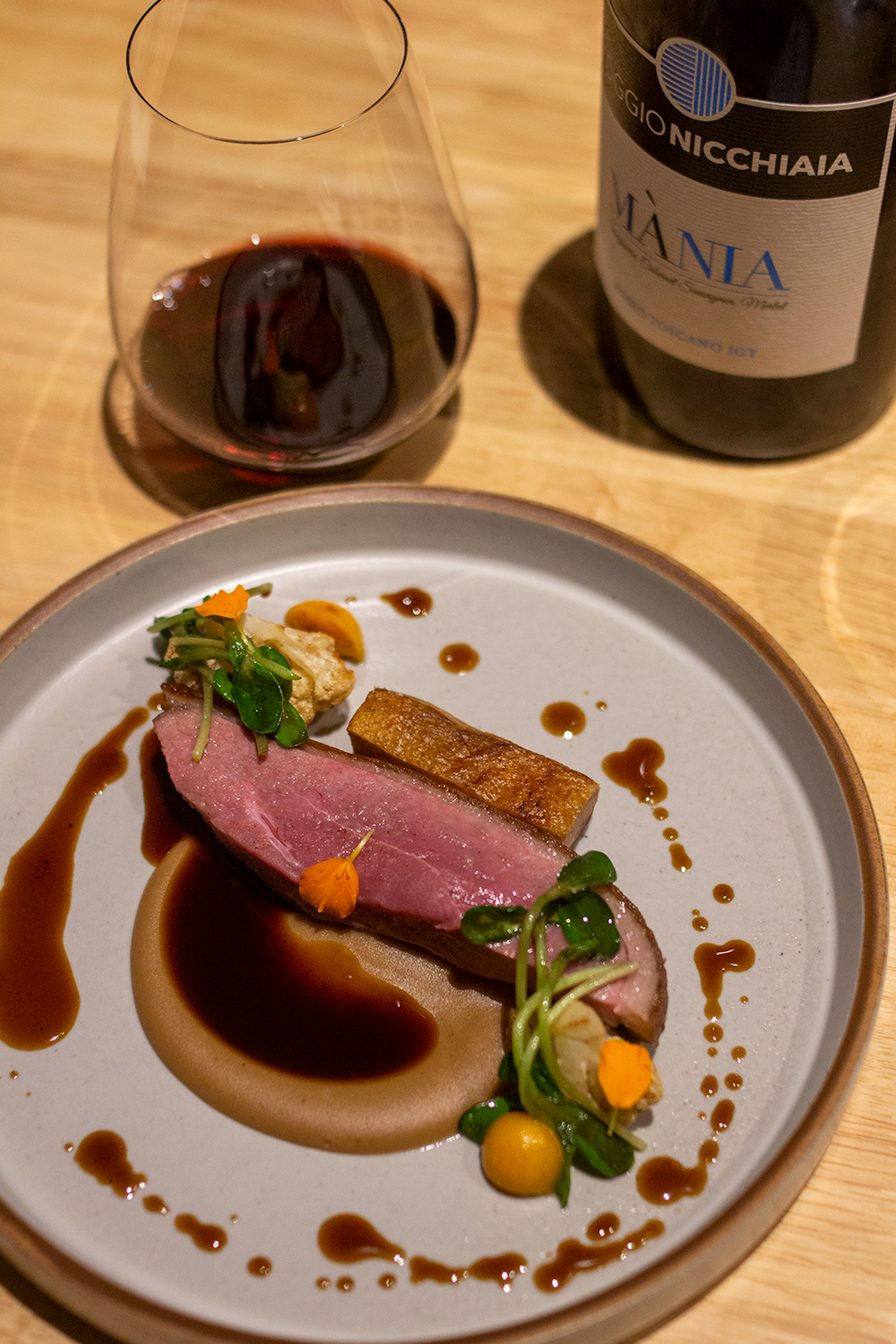 The third course brings us roasted duck breast and duck leg confit, served with chestnut purée and black tea jus. Ageing the duck for about 5 days lends a much softer texture to the duck breast, and when cooked perfectly to a rosy pink centre, the knife is able to slice through the meat with buttery ease. The duck leg confit lends an added crisp texture and depth of flavour to the dish, while the velvety chestnut purée offers a welcome sweetness to bring the dish to life. For added contrast, Chef Aidan incorporates sunflower sprouts that have been cooked in lemon juice, and gooseberries for a green, citrusy bite.
This duck dish goes beautifully with the Tuscan Poggio Nicchiaia Mània Rosso, an incredibly smooth blend of Cabernet Sauvignon, Merlot, and Sangiovese. This medium-bodied red brings dark berries and a hint of oak to the palate, completing the game course of the meal.
The transition from savoury to sweet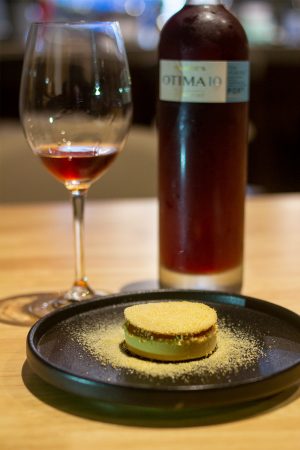 As we continue on our journey down the savoury route, the next dish sees a truly different approach to a classic French dish. Larnaudie foie gras has been whipped into an airy, lightweight parfait, and topped with plum gel, a phyllo disc, dried mandarin pieces, and dusted with dried mandarin sugar.
If you're looking for a way to familiarise yourself with the gaminess of foie gras, this would be the dish to do it. However, for those who favour the real thing, the sweet combination of plum, mandarin, and sugar does overpower the fattiness of the foie. And while the accompanying Warre's Otima 10-year-old Tawny Port brings a delightful earthy sweetness of honeyed figs, cherries, and peaches, it's probably better to pair this with a foie gras dish that celebrates its richness in all its glory.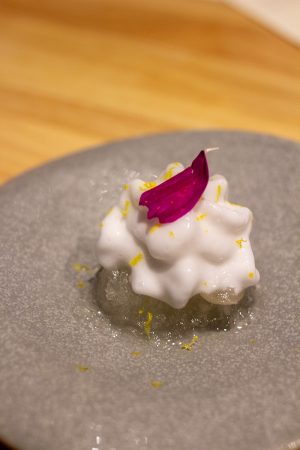 Probably one of the most surprising dishes in the meal is the toddy and sake granita, with longan bits, coconut water, and topped off with an egg white espuma.
The combination of Klang-derived toddy, sake, and longan cleans the palate with its delicate natural sweetness, while the coconut water brings a touch of creamy savouriness. The resulting complex flavours make this dish one of the most memorable, and certainly deserves a bigger spot on the menu. As a palate cleanser, it could do without the coconut water as it does leave a more savoury finish.
Sugar, spice, and a hint of nostalgia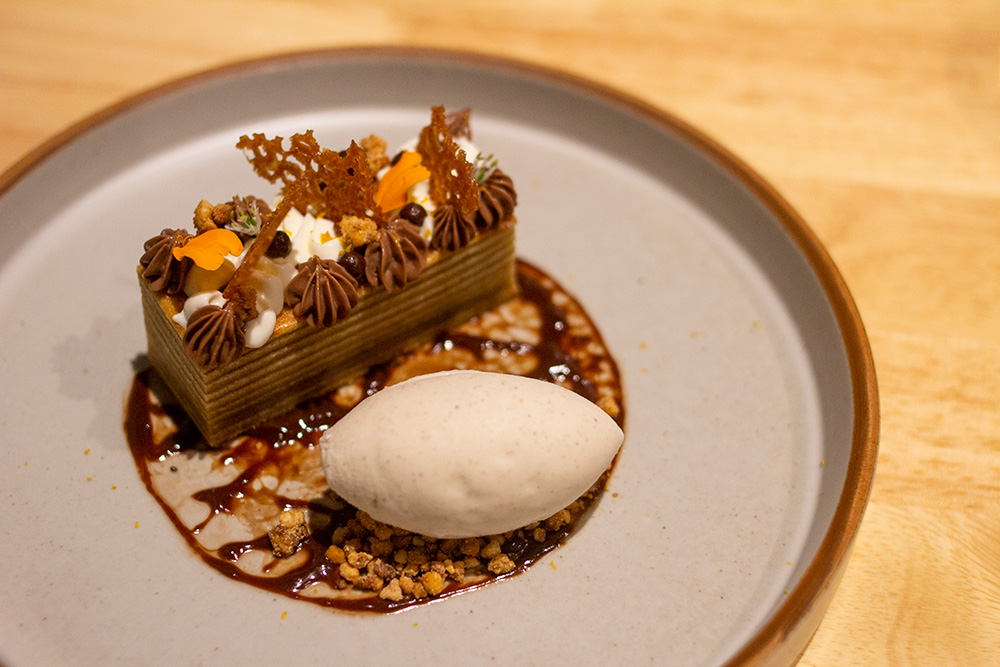 We end our meal on a nostalgic note, with a spiced layer cake and cinnamon ice cream. Inspired by our very own kek lapis, this cinnamon-infused sponge is topped with Callebaut chocolate drops, almonds and caramel shards for a contrast in texture, and finished off with orange zest to enliven the dessert.
So, after news that the restaurant has been continuously booked out since its revival post-lockdown, is Akâr worth the hype? Yes, yes, a thousand times yes. It certainly cements itself as one of the most creative contenders in Malaysian dining, and we can't wait for our return visit.
Reservations are highly encouraged if you're planning to dine at Akâr, which you can make via this link. They are open from Monday to Saturday, with two time slots at 6.30pm – 8pm, and 8.30pm – 10.30pm. Give their Instagram page a follow for updates and the latest menus.
Akâr is located at 109, Jalan Aminuddin Baki, Taman Tun Dr Ismail, 60000 Kuala Lumpur, Wilayah Persekutuan Kuala Lumpur.
Photography: Anson Siau