I stopped talking to a friend over generative AI, the ones that is all the craze right now. Quite dramatic I know. The thing is not so much about AI, although it is in the centre of it, but instead with the human part of the two of us. You see, I am a writer. In my previous life, I dabbled with visual things before that industry got hit badly in recent years and I lost my job.
The friend was there, and he witnessed that, so I was taken aback that he is suddenly oblivious to the fact that on the opposite end of the battering ram of this AI revolution that he is proudly pontificating is me, fearing for my life.
I told you it's quite dramatic, but I can't be the only one feeling this right?
It's always dangerous writing about the promises of new technology at the cusp of it finding its way into the mainstream, more so when people, in general, are finding joy in it and reaping benefits from it.
Heck, even Tun Mahathir Mohamad, a man born before sliced bread was invented, is finding a use for the tool when he tweeted about how it is the latest addition to his arsenal against his nemesis, the Prime Minister.
As I join the chorus of human writers bravely trying to make sense of this new world we found ourselves in, I've seen my peers going witty, writing a story together with the AI to show how humans and this shapeless-machine-beyond-our-comprehension-living-in-the-cloud can work together to make something beautiful. Meanwhile, others interviewed the AI, which I find to be a rather dark humour, seeing how they are here to take our jobs.
"Behind these words is one man and all his faults and failures as a human being. If this ends up sounding selfish, it probably is."
You'll find none here. Behind these words is one man and all his faults and failures as a human being. If this ends up sounding selfish, it probably is. (I'm not sure if AI can do that already).
I am not going to be coy. I am concerned about my livelihood and others in the same shoes. For as long as I can remember, the promise of artificial intelligence – and their anthropomorphic representations, robots (coming soon!) – has been that it will make life easier for humans. From the halcyon days of Rosie in The Jetsons to Jarvis in the Marvel movies, AI is there, able and ready to make human life easier, allowing us to strive for "higher pursuits"; poetry… painting… "The Arts".
It was just five years ago that people were saying that it is the lorry drivers who are going extinct, with Tesla announcing its Semi truck and when self-driving is seen as inevitable for the haulage industry. "They should pick up coding", I remember reading. Such audacity, I thought. Still, back then I was comforted in the knowledge that what I am doing is likely to be an AI-proof industry, at least within my lifetime. Oh, I was so wrong.
It didn't take long before The Arts found itself dismantled to a command prompt for people to key a few words in and get a piece of artwork almost instantly. A tech bro was ridiculed on Twitter recently for using AI to expand the canvas of the Mona Lisa, and The Beatles' Abbey Road album cover, to see "the rest of the picture" they said.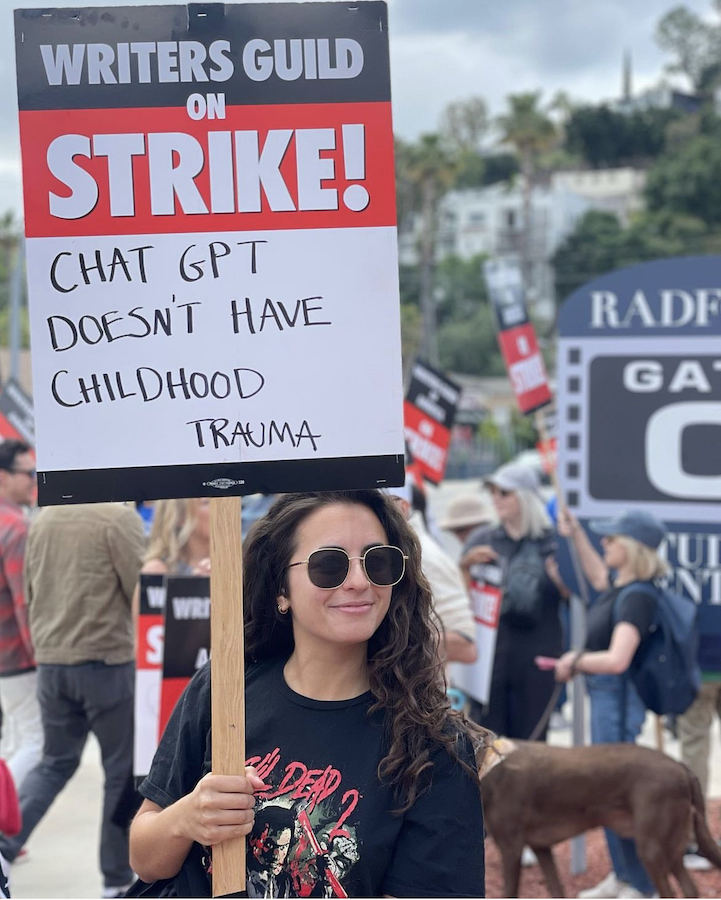 Seeing the boundary of an artwork as a limitation – or dare I say mistake? – instead of a conscious effort of the artist, somewhat answers the way these engineers think, how they see "The Arts" as a problem to solve.
AI is not creating something that hasn't existed before. You could get the same result, through a human, exactly how you want it if you bothered to ask for it and communicate well about what you want. But we struggle so much with communication between our own species that we resort to AI and creating "prompt engineers" to talk to these large language models to get what we want.
"We are so jaded with communication that we are just outsourcing it away to a machine."
My email app got an update recently, and you can now push a new shiny AI button. What it does is it scans the email you're responding to and craft an appropriate, and professional email just begging for you to send.
I know, no one likes email. But we are so jaded with communication that we are just outsourcing it away to a machine. We are so concerned with how our email greeting makes us appear, so we can now leave it to the wisdom of some lines of codes in a server somewhere to decide. I guess with the high likelihood that the other person responding similarly simply clicked on an AI button, the one judging would be the AI on the receiver side.
I hope I'm wrong. I hope to come back to this in a year and laugh at how silly I was, but until then, I'm with the Luddites on this.
The difference is the machine they wish to dismantle were tangible hunks of iron, while I am staring at a black box whose creators themselves went on record to say that they "don't know how it works".