ICYMI: Aēsop recently launched their own line of candles, starting with a trio inspired by mythologies and ancient astronomy. If you love the marque's aesthetic and the fragrance profiles Aēsop is known for, think of these as a new addition in your collection to bring some peace, aromatherapy, and tranquility into your home.
We recently had the chance to speak to Aēsop's Director of Innovation, Dr Kate Forbes and renowned perfumer Barnabé Fillion on the making of the new candles, the best way to enjoy them, and why they chose astronomy as the inspiration behind them.
Since these candles mark a first for Aesop, who came up with the idea to release a trio candles for the brand?
KF: Our customers have been asking us to develop scented candles for some time; in response, we have worked assiduously on new fragrance profiles with our long-term collaborator, Barnabé Fillion – the perfumer behind two of our personal fragrances, Marrakech Intense and Hwyl Eau de Parfum, as well as our Aromatique Room Sprays. Our trio of Aromatique Candles represents a natural extension of this partnership, and a fitting addition to existing Scented Home subcategory. We created this elegant collection to offer not only three distinctive new fragrances, but also a subdued, calming light; we have long agreed wholeheartedly with the views of Japanese author Jun'ichirō Tanizaki, not least the assertions in his classic work In Praise of Shadows about the beauty afforded by flickering candlelight and shadow.
How did you approach capturing the scent from your chosen inspirations?
KF: We have been working on the fragrance profiles for some time, in response to repeated requests from our customers for a range of scented candles. Our long-term partnership with Barnabé provided the ideal context for their development – having collaborated with him to create our Aromatique Room Sprays, we have been considering the nature of the fragrances we might employ in similarly distinctive candles. We have also devoted concerted attention to the design of the vessels that would house them. It is through our relationship with Barnabé that we have been able to meet our exacting standards for such a range.
BF: The three Aromatique Candles are distinctively Aesop in aroma and as per our personal fragrances and wider product range, will know no gender boundaries. They are intended for all who take pleasure in evocative aromas.
Aganice delivers a floral, spicy aroma that will appeal to those who enjoy Istros Aromatique Room Spray and the aromas of our more piquant products, such as Coriander Seed Body Cleanser and Resolute Body Balm.
Callippus is an opulent woody fragrance. There are strong echoes of Reverence Aromatique Hand Wash and Balm, with added notes of Frankincense and vibrant Shiso.
Ptolemy features a blend of dry, mossy woods and is likely to appeal to existing users of Hwyl Eau de Parfum as well as those seeking richer, more earthy smoky fragrances.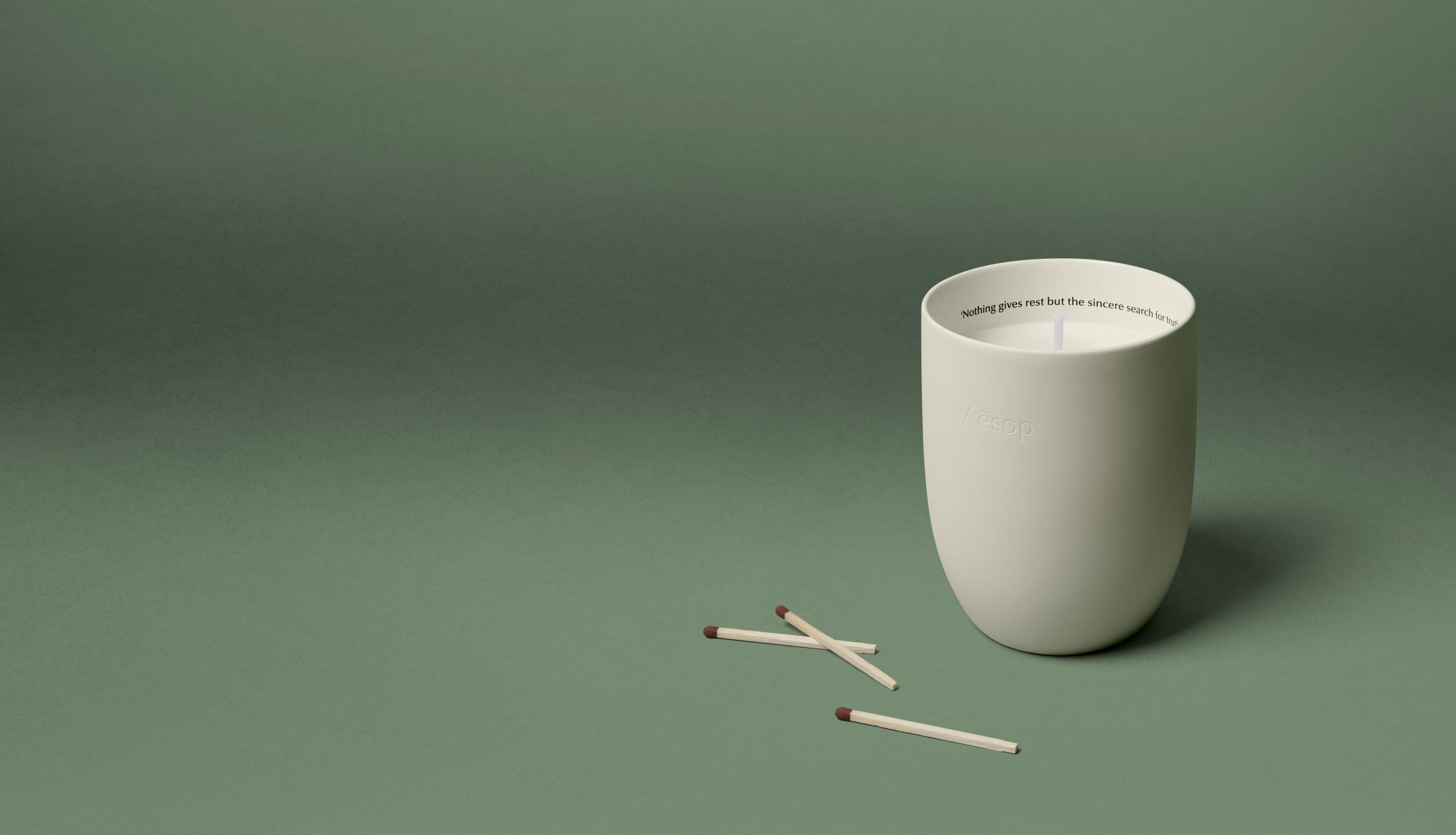 Why did you choose ancient astronomy and mythologies?
KF: The overarching concept began with the notion of 'Candles as stars'– in its simplest form, comparing the flickering lights of a candle in the dark to the stars in a night sky. This soon evolved, becoming a wider appreciation of the scientific study of the universe and the fact that stars have primordial, cross-cultural significance. This research culminated in the naming of each candle for an astronomer of ancient repute—Aganice, Callippus and Ptolemy, respectively—alluding to the capacity of candlelight to evoke a calming sense of wonder, much like a radiant night sky.
Aganice is titled for a woman often cited as the first female astronomer of Ancient Greece, renowned for her knowledge of the moon and its cycles; Callippus honours another Greek astronomer and mathematician, who significantly refined the dominant planetary theory of his time, while Ptolemy bears the name of an ancient Greek-Egyptian scientist whose work informed much medieval astronomy.
Extrapolating these early thoughts, we explored the importance of the stars in seafaring journeys, and in securing a safe port after a storm – finding a clear metaphor for navigating the turbulent waters of 2020. Since ancient times, the stars' positions have been used to chart voyages across the 'wine-dark sea', as Homer wrote in his Odyssey; in parallel, on land, lighthouses have long been used to warn sailors of dangerous areas and to provide navigational aid when cloud cover masks the night sky. Certain stars, known as 'pulsars' or neutron stars, are even referred to as cosmic lighthouses. These objects radiate light in two opposite directions, appearing to blink as they rotate, just as the beam of a lighthouse appears to flicker on and off as it sweeps across the water.
The connections we saw between the night sky, journeys into unknown waters, and the scientific and cultural history of astronomy seemed entirely apt – in keeping with our customary philosophical leanings and with the circumstances of the time.
What was it like to be working together on this new product?
KF: The relationship between Aesop and Barnabé is built on trust, mutual respect and one of genuine collaboration. We seek out the expertise of perfumers to assist us in creating complex and enduring fragrances. We have forged a long-standing relationship with Barnabé for the following reasons:
– Expertise in the different facets of perfumery.
– His work is rooted in the idea between innovation and tradition.
– Shared belief that an exceptional fragrance requires botanical extracts of the finest quality.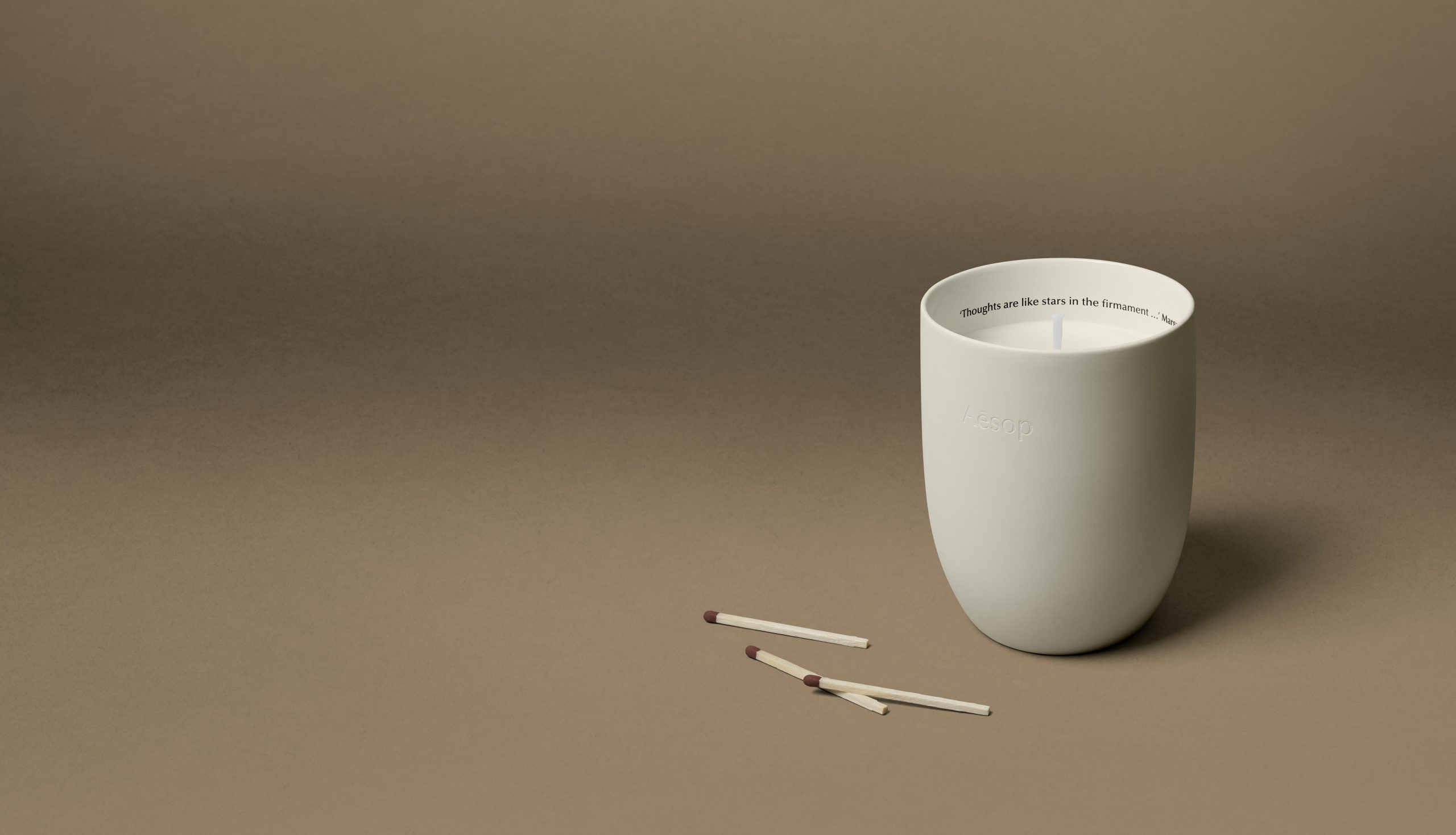 We have worked with Barnabé for a number of years now. Our collaboration began with the reinvention of our original fragrance— Marrakech—resulting in Marrakech Intense which we launched in 2014. It was something of a natural evolution to work together, and essentially, it's a relationship founded in a meeting of like minds, engendering mutual trust and respect. In Barnabé, we have found a creative partner who shares our deep regard for both science and nature, our ardent intellectual curiosity, and our belief in the harmonious marriage of innovation and tradition. We are also twinned in our aesthetic leanings and cultural interests, valuing what has depth and longevity over what is momentarily fashionable – which means we favour a painstaking approach when developing new products, following every promising idea and path exhaustively. Our relationship has become stronger with each collaboration; it brings a galvanising energy to the ideation and development process, and ultimately, rich rewards to our customers.
What are the best ways or setting to enjoy them in?
KF: All fragrances in the range can add a sense of calm and an uplifting atmosphere to home or office settings. Aromatique Candles are the perfect choice when subdued lighting is also desired, perhaps at the beginning or end of the day, when a gentle interlude between workaday routine and personal affairs can help establish or restore equilibrium.
If you were to pick a favourite candle from this trio, which would it be?
KF: Aroma is very personal. As we worked through the development of the Aromatique candles, I was immediately drawn to the complexity and earthy smokiness of Ptolemy. It has warmth and a familiarity that invites me to exhale after a long day and feel uplifted yet grounded. As the candle burns, it balances fresh citrus top notes, with deeper incense and resin, and fills the space with a sweet smokiness.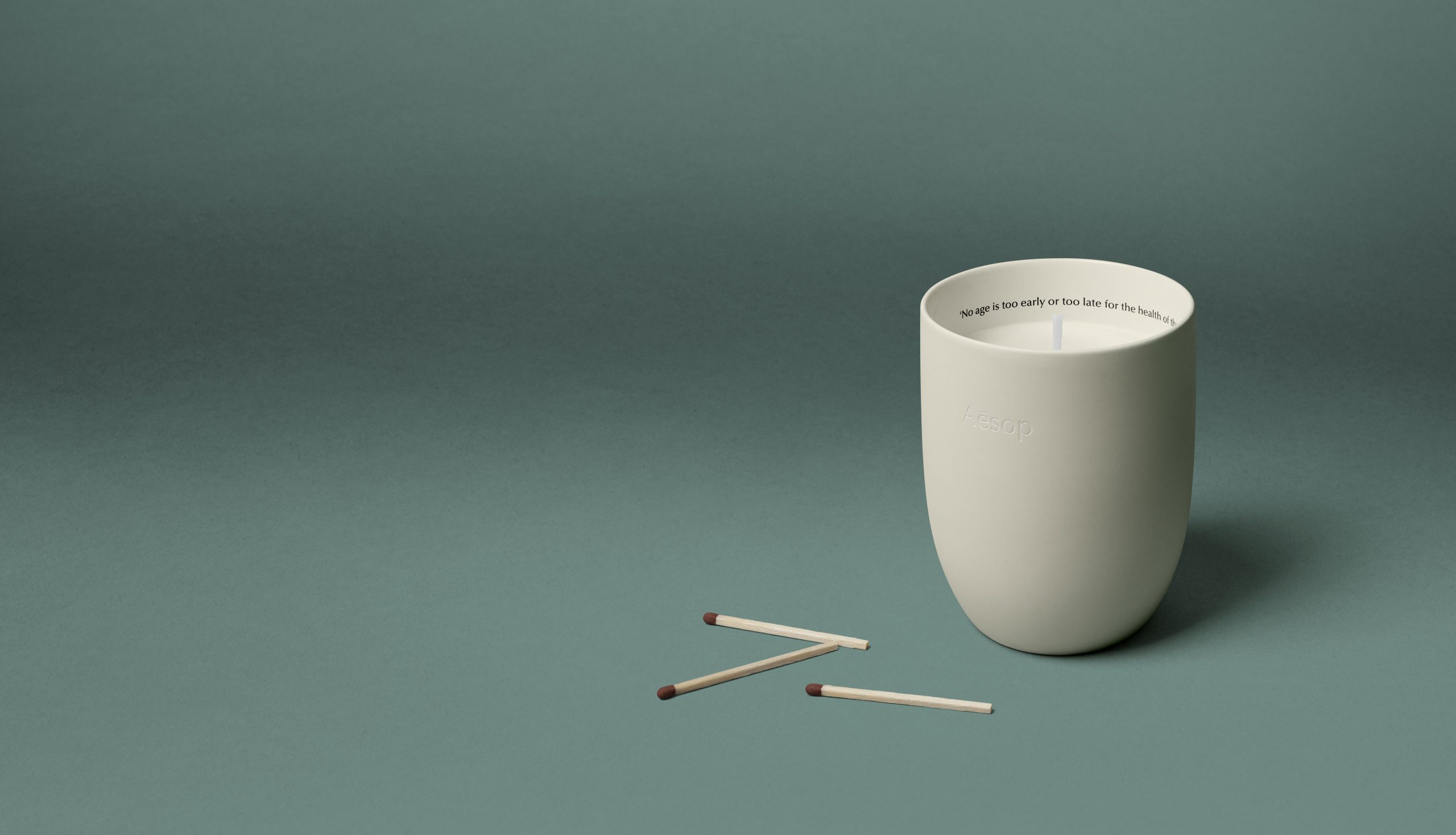 Is there a different approach to creating scents for candles versus creating scents for perfumes?
BF: In creating the Candles, we draw inspiration from one of the room sprays while also looking at the fragrance profile for Hwyl and how we can adapt this to a new format. As with the fragrances and Aromatique Room Sprays that we have worked on together, we have utilised botanical ingredients alongside select synthetic fragrance ingredients, working to find perfect unity and structure. We have also once again looked to alternative—often innovative—techniques and methods of extraction in order to achieve and deliver the desired longevity, intensity and balance.
KF: Creating a candle vs creating a fragrance is a very different approach, however one common thread is the creative process. In all our collaborations with Barnabé, there is a moment in which a particular inspiration or set of inspirations comes to the fore, striking a note that feels precisely right on an intuitive level for the product in question. This will often lead our thinking around ingredients, as exciting correspondences emerge. More often than not this quite a subtle phenomenon – an unfolding rather than a sudden exclamation.
The Ptolemy, Aganice, and Callippus candles are available for purchase at Aēsop signature stores, with each 300g candle priced at RM450. Find out more by visiting their website.
Photos: Aēsop