If you're going to build the largest Hilton hotel in Asia Pacific, Singapore's Orchard Road is the place to do it. Among the dizzying array of shopping malls, departmental stores, and dining outlets that light up the famed boulevard, the recently opened 1,080 room Hilton Singapore Orchard soars conspicuously above, its two grand towers sprouting from the well-known retail centre Mandarin Gallery.
Centrally positioned to serve both leisure and business travellers, the hotel aims to raise the bar as a world-class lifestyle destination with innovative designs, top-tier culinary options, unique sustainability initiatives, and state-of-the art event spaces.
"We're quite proud of the offerings that we have around the hotel and I think with the size, the location and the experiences we're providing," Hilton Singapore Orchard's General Manager Cedric Nubul shares with us. "We feel that we are sort of a brand-defining Hilton, pushing the boundaries of what the customer can expect from a Hilton Hotel."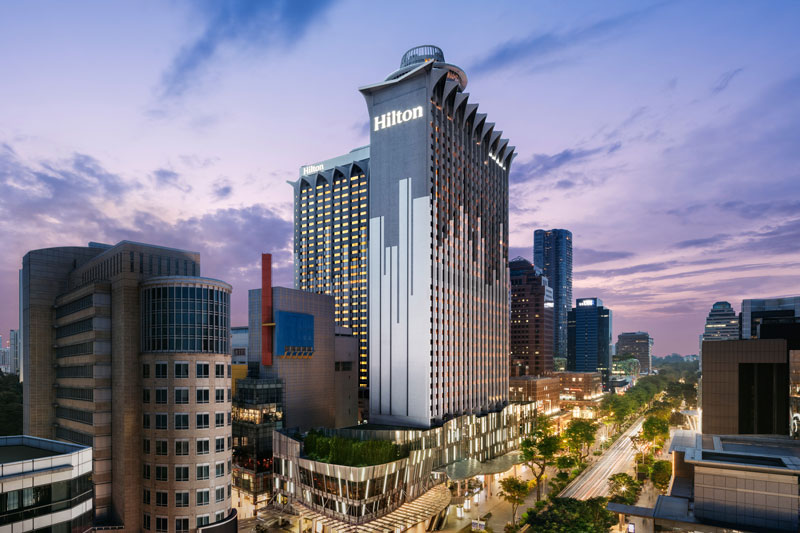 Stepping out of the wide, bustling streets and into Hilton Singapore Orchard, we're greeted by all the expected trappings of a big city hotel: sophisticated, clean lines, a bright sun-lit foyer, and elegant, modern decor. Before long, however, hints of a hidden story start to peek through. 
Familiar botanical elements adorn the interior's spaces, from decorative sculptures to the colour of reception staff uniforms. The airy, cathedral-like Ginger.Lily lounge and bar on the fifth floor takes the shape of a glass conservatory, while next door, the Estate restaurant offers glimpses of old plantations though painted windows and ornamental bunches of wheat.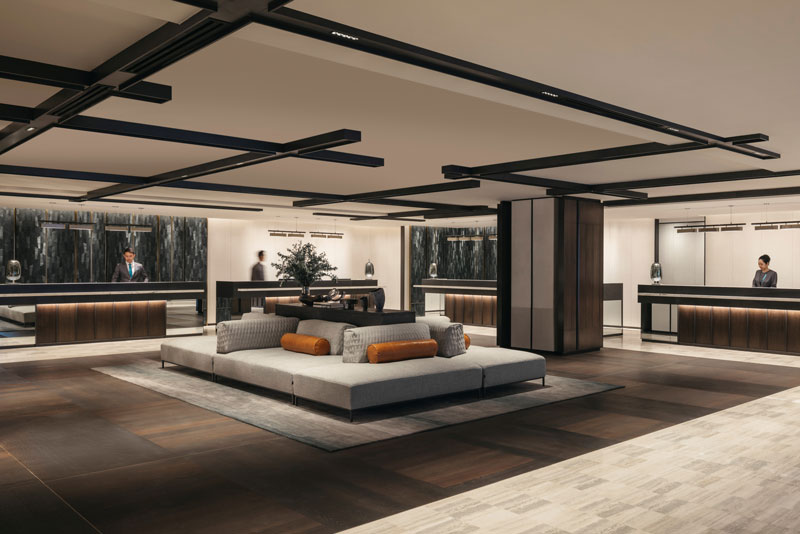 The details all tie back to Orchard Road's beginnings as a nameless road flanked by fruit orchards, pepper farms, and nutmeg plantations. Nubul explains: "The core concept design was to retell the heritage of Orchard Road, the Orchard Trail experience, the origin of Orchard Road with nutmeg plantations and spices."
Walking past the Ginger.Lily, we catch sight of the lounge's Orchard Trail Afternoon Tea, a set of savoury and sweet bites housed in a book-shaped stand. We're told it represents a new chapter in the Hilton Singapore story, but it seems to even more so, reference the hotel taking a page or two out of its location's historical past.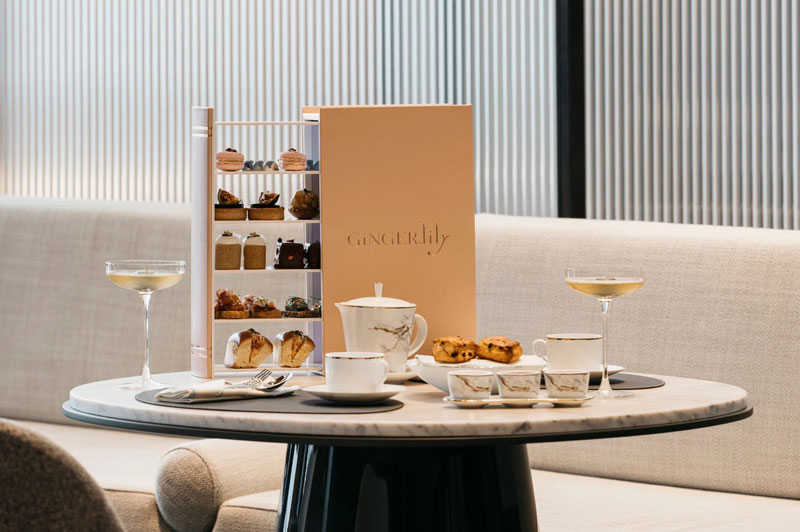 Innovation and sustainability at the heart
The calming, earthy aesthetic of the Hilton Orchard Singapore's lobby carries on into the King Premium City View Room, marked by dulcet shades of grey and green. One of the first things that stand out about the room is its unconventional wardrobe, which takes pride of place next to the television. Fully exposed and facing the bed, the open closet allows guests to sit back and lovingly gaze at the spoils from a day's worth of shopping, or show off their new wares when friends drop by. 
Near the window, the typical writing desk has been replaced with a multifunctional circular table, which can be used while lounging on the couch as well as seated on a traditional desk chair. We utilise the versatile fixture to full extent during our stay, designating it as our go-to spot whenever some work on our laptop or a cup of coffee called.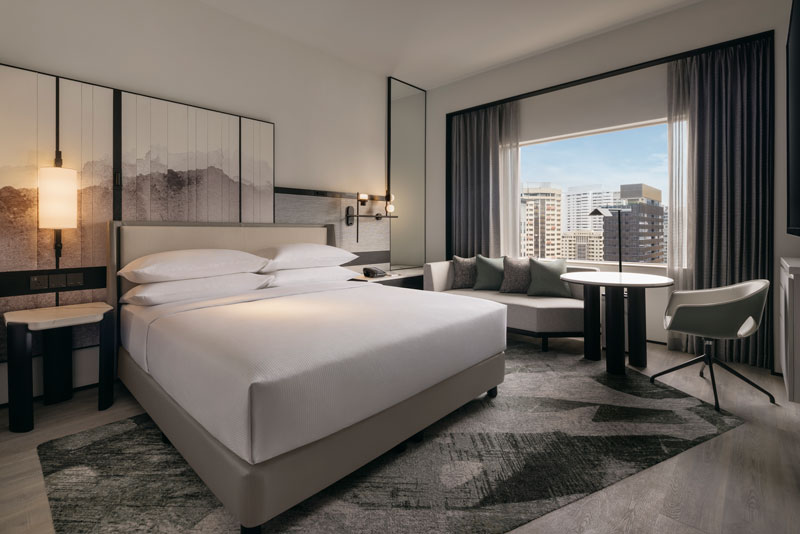 Elements like these reflect an awareness and eagerness to innovate for the times we're living in, whether it's the era of revenge shopping or the newly blurred boundaries between work and home life. The pandemic has undoubtedly left an imprint on how hotels operate, particularly our heavier reliance on technology. 
"Around the hotel you can see that we've moved less from paper to digital. You don't have a directory in your room, you don't have a room service menu, and I believe that customers really like the fact that they can order room service from their phone and talk to the team through our messaging system," Nubul points out.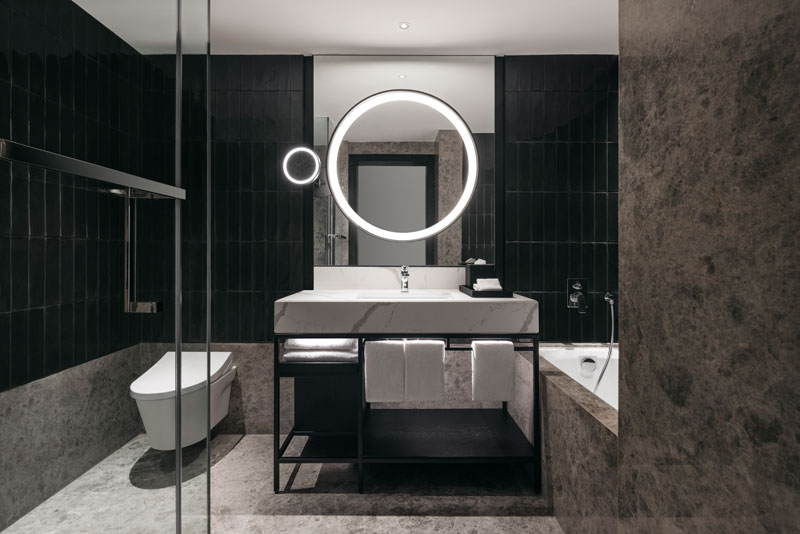 Adapting to pressing climate issues of today, the hotel is also committed to practising sustainability beyond just a flimsy note encouraging guests to reuse their towels. "For us as a hotel team, it's about sustainability not being a choice, but a responsibility," he notes.
We're most reminded of this when entering and exiting our room. Thanks to energy saving motion sensor controls, the air-conditioning and lights subserviently switch off after we leave, and right back on in anticipation of our return. To access the room, we're given a wooden key card in lieu of a plastic one, but those with the Hilton Honours app get to unlock their door with a tap of a smartphone.
With a suite of five top-notch culinary concepts to choose from, we endure at every meal time the emotional tug-of-war between venturing outside to explore local eats and tucking into the endless selections on offer at the Hilton Singapore Orchard.
Nubul doesn't blame us. "That's something that really it's in our DNA, the Hilton hospitality and from a culinary standpoint, I think that Hilton has always been known to really drive great culinary experience throughout these hotels."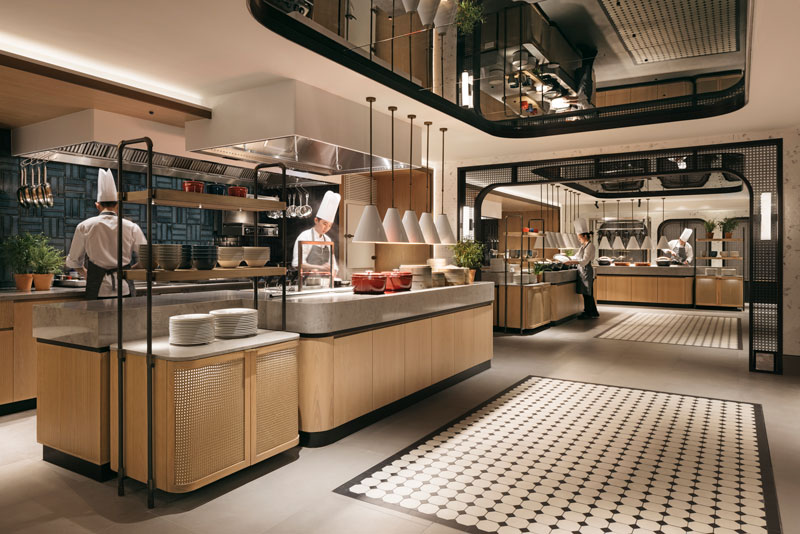 At the colonial mansion inspired Estate, elevated takes on regional classics such as Estate Black Truffle Roasted Duck and Gochujang Chicken Tacos are served up in open kitchens, which are sectioned off in a distinctive 'residential-style' layout configuration. Nearby, the spacious Ginger.Lily leans into the botanical theme with afternoon tea, artisanal cakes, and cocktails that spotlight native herbs, flowers, and spices.
Then there's Osteria Mozza by celebrity chef Nancy Silverton, which boasts a menu of phenomenal Cali-Italian creations, including a Cacio e Pepe pizza that continues to live rent-free in our heads to this day. 
Up on the 35th floor, the two-Michelin starred Shisen Hanten provides impeccably made Szechuan cuisine, while on the fifth floor, the refurbished local favourite Chatterbox continues to offer its famous chicken rice in a refined, casual setting.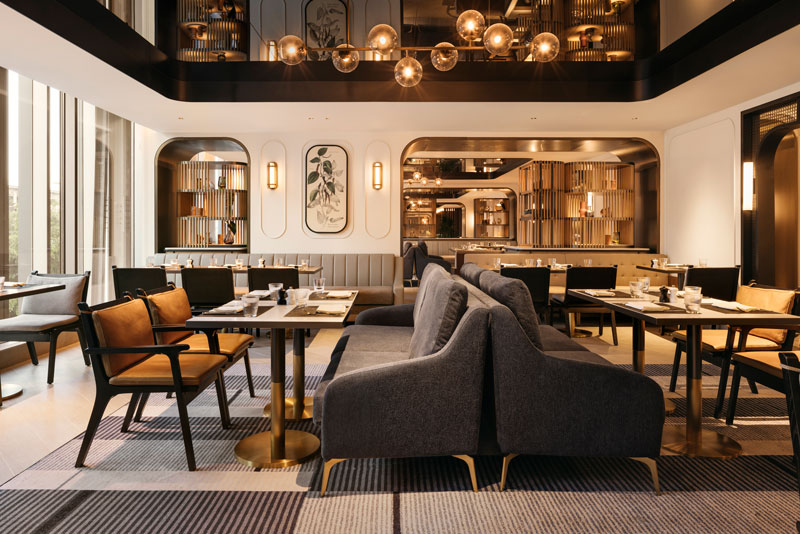 Nubul lets us in on the next crowning jewel to join the hotel's dining repertoire: a bar at the top of the tower with a 360° view of Singapore's skyline. Its launch is expected in 2023, along with the hotel's second tower that's yet to be opened.
It seems an unbeatable location, outstanding innovations, and first-rate culinary concepts aren't enough – Hilton Singapore Orchard is just getting started.
Photos: Hilton Singapore Orchard