Spotted: A colourful array of feminine pastels and a playful display of graphic prints, among other SS18 trends.
New York, London, Milan and Paris Fashion Weeks have finally come to a close and we can't help but wonder how every season just gets better than before. Ain't that the marvel of fashion and creative industries?
As we looked back on some of our favourite fashion shows from Versace's tribute to Gianni and '90s OG supermodels to Chanel's tropical runway to Dior's feminist collection, we noticed several recurring themes.
Here are nine SS18 trends we spotted from the four biggest fashion weeks of the fashion calendar.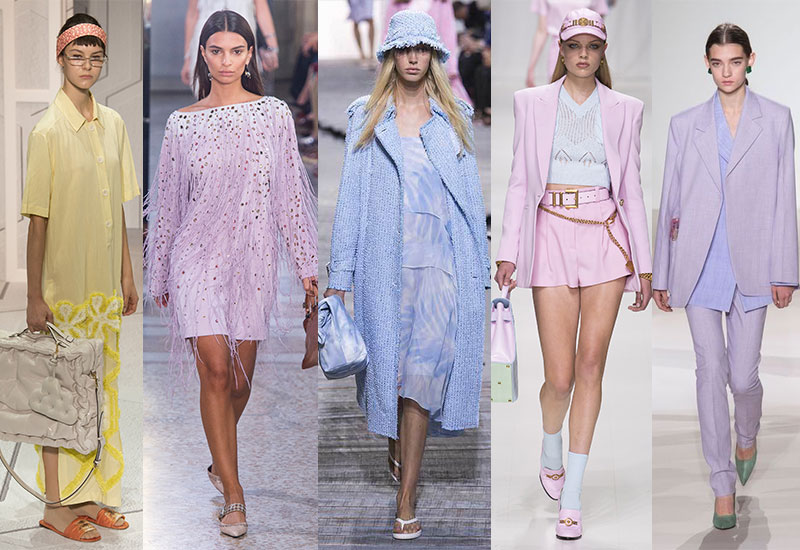 Pretty pastels
Pretty pastels
Victoria Beckham started the pastel theme in her New York show, and from then on the trend flooded the runways in soft shades of pink, blue, yellow and purple. From left: Anya Hindmarch, Bottega Veneta, Michael Kors, Versace, Victoria Beckham.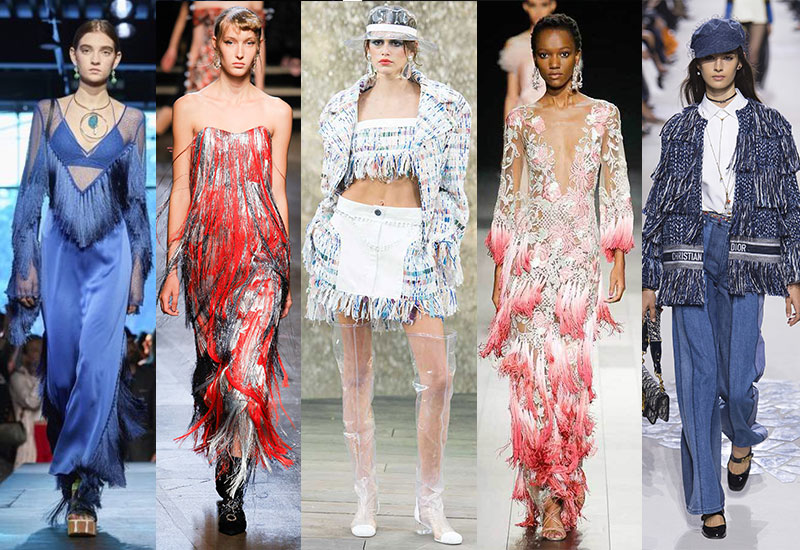 Frivolous fringes
Frivolous fringes
We saw the frays trend in Resort 2018 collections and now fringes are taking over for SS18. Find them not just on the hem of pants, but all over tops, jackets, skirts, dresses and boots - seen predominantly in the Chanel and Diane von Furstenberg shows. From left: Diane von Furstenberg, Erdem, Chanel, Marchesa, Christian Dior.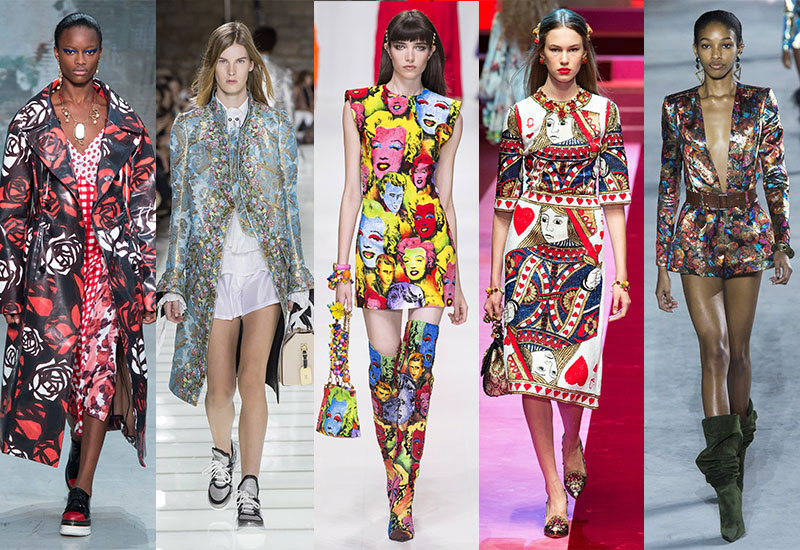 Graphic gamestrong
Graphic gamestrong
It was a case of prints gone wild for SS18 with Versace taking the lead in the graphic game, featuring Gianni Versace's most popular prints of all time as well as vivid illustrations of icons like Marilyn Monroe and Andy Warhol. Dolce and Gabbana's show also had its fair share of graphics, with motifs revolving around the theme of "Queen of Hearts". From left: Marni, Louis Vuitton, Versace, Dolce & Gabbana, Saint Laurent.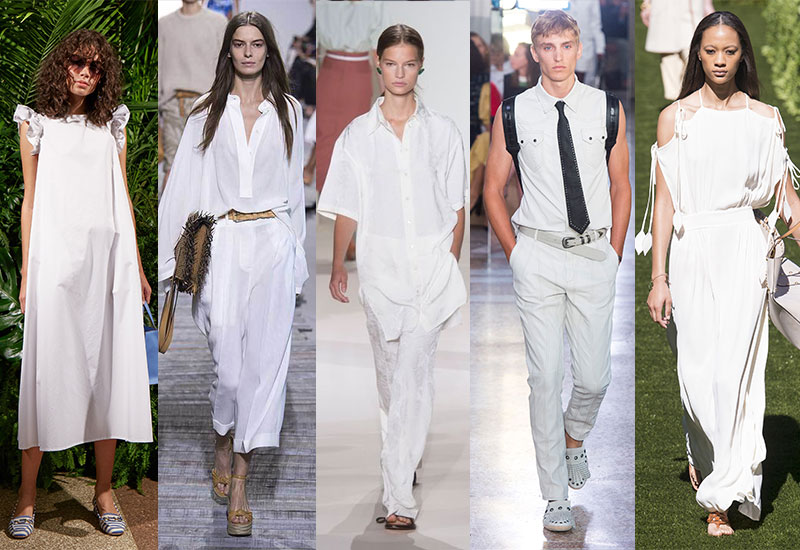 White washed
White washed
White is one colour that never goes out of season, but SS18's minimalist white-washed pieces appeared on too many designer shows to not be on this list. From left: Kate Spade New York, Michael Kors, Victoria Beckham, Bottega Veneta, Tory Burch.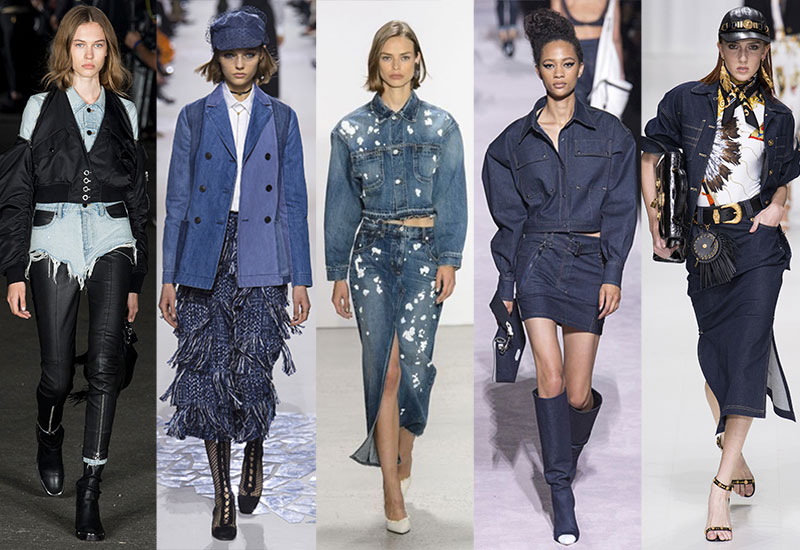 Denim duty
Denim duty
While denim never fades, each season's trend and fit changes. From the looks of fashion weeks, patchwork denim and puffy sleeve denim jackets will be the rage next summer. From left: Alexander Wang, Christian Dior, Oscar de la Renta, Tom Ford, Versace.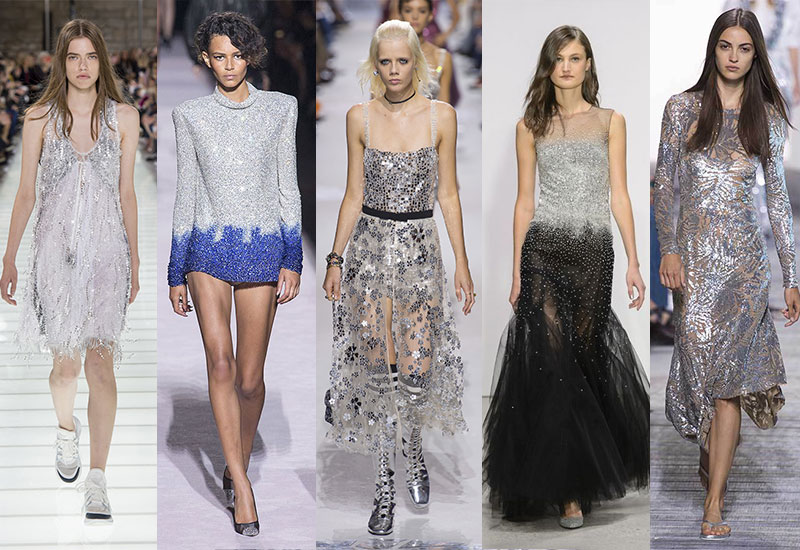 Silver sparkle
Silver sparkle
A little shimmer and a whole lot of shine – that's what our summer eveningwear would look like next year. From left: Louis Vuitton, Tom Ford, Christian Dior, Oscar de la Renta, Michael Kors.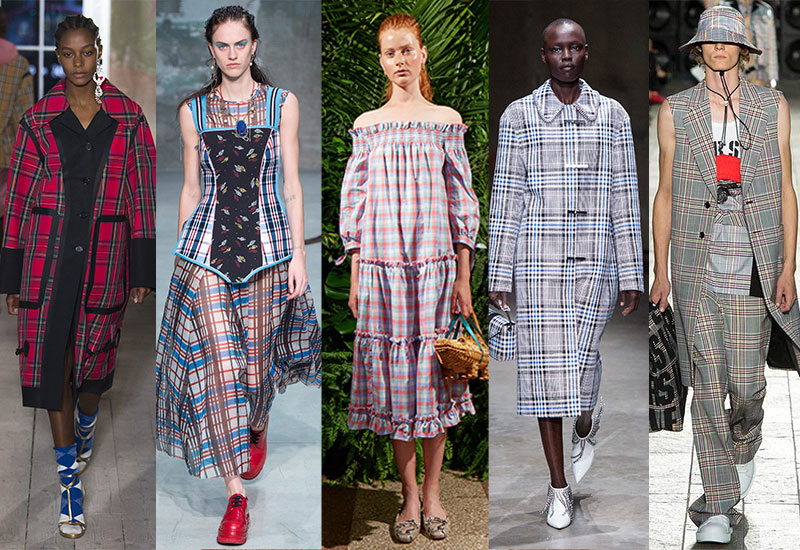 Plaid party
Plaid party
Burberry's signature tartan designs weren't the only plaids we saw for SS18; designer brands like Versus Versace and Marni have also joined the plaid party. From left: Burberry, Marni, Kate Spade New York, Calvin Klein, Versus Versace.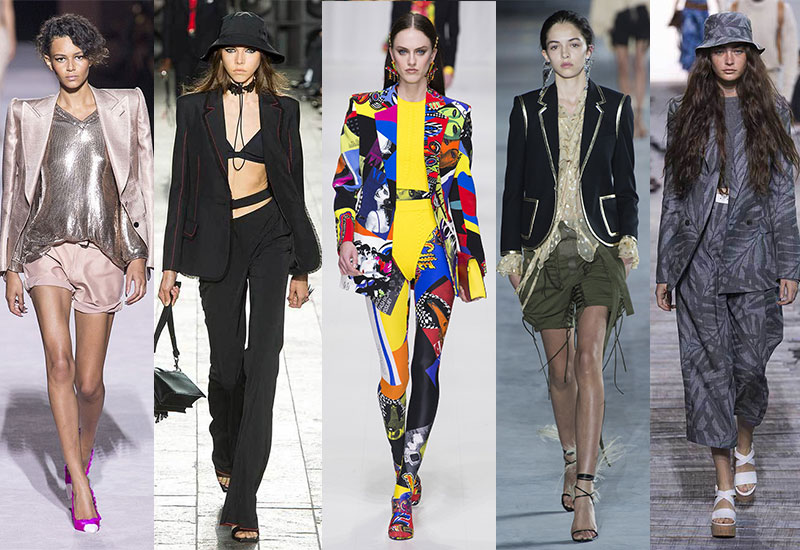 Summer suiting
Summer suiting
The heat ain't stopping these designers from suiting up for the season. Take your pick from classic black to millennial pink to tropical prints. From left: Tom Ford, Versus Versace, Dolce & Gabbana, Saint Laurent, Michael Kors.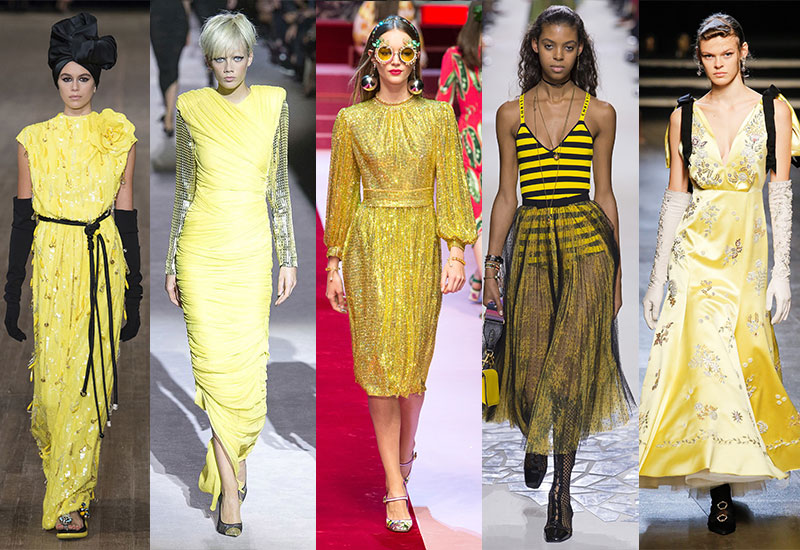 Yellow yield
Yellow yield
Another colour to match the bright mood for summer – yellow! It's not easy to pull off the shade, but these looks should do the trick. From left: Marc Jacobs, Tom Ford, Dolce & Gabbana, Christian Dior, Erdem.
(swipe left for more)
Images: Courtesy of respective brands