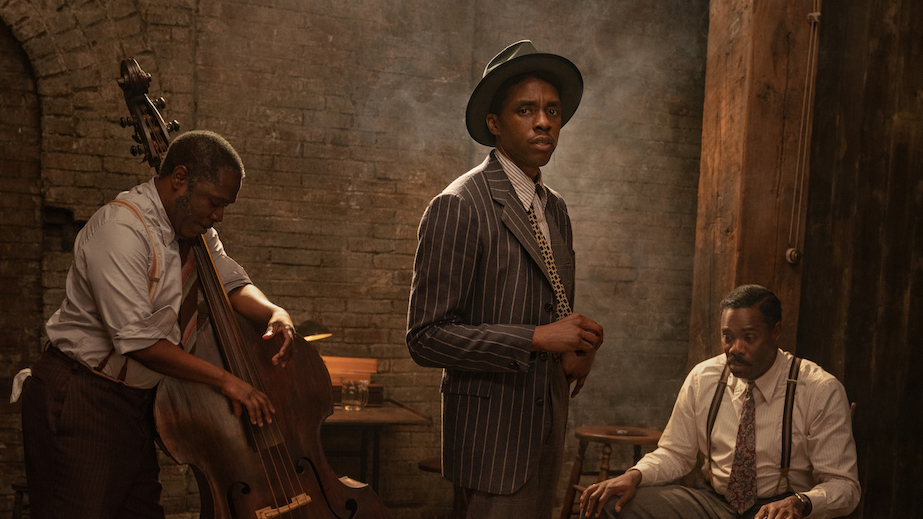 How many of you out there are planning to stay home and chill for the festivities this year?
If you're not exactly the type to get excited over sappy Christmas movies during the holidays, fret not as Netflix is releasing both old and new offerings to make sure that everyone stays entertained. Anime and manga fans are waiting with bated breath as a new episode to the season finale of Attack on Titan rolls out every week, and we bid goodbye to Chadwick Boseman on the big screen with his final performance as a charismatic horn player on Ma' Rainey's Black Bottom.
Here are 9 movies and shows you can look forward to this week onwards, including old school favourites and new additions to kick off 2021 with.
Pieces of a Woman – 7 January 2021
Pieces of a Woman is a film that examines the various shades of grief, brought to life by main character Martha Weiss, who is played by British actress Vanessa Kirby. The story follows Martha as she faces a tragic loss following a failed home birth, and eventually spirals into a year-long struggle with what went wrong, the relationships with her husband and mother, as well as a case with her vilified midwife.
Sometimes, the most profound feelings can be translated through film in less than 10 minutes. Canvas is an animated short film that exudes serious Inside Out vibes, as it follows a lonely elderly man who's been grieving the loss of his wife. In order to pick himself and a paintbrush up, he finds inspiration once again thanks to his granddaughter.
Attack on Titan – New episodes every week
The wait is finally over – fans of Attack on Titan are finally getting the season finale to the widely popular and critically-acclaimed anime. Its fourth and final season is set to bring a lot of backstory and a new look, while encapsulating the remainder of the manga – which if you have been following the latter, seems to appear like a near-impossible feat. Based on the trailer, it looks the show will tackle some of the most important parts of the story, but only time will tell just how well they'll be able to pull it off.
Jeopardy! – 18 December 2020
If you're an old soul with a knack for quiz shows and fancy a little throwback, then you can look forward to Jeopardy! making a comeback. For those who aren't familiar, it's basically the a quiz competition where contestants are presented with general knowledge clues in the form of answers, and they must give their responses in the form of questions. This old school game show will surely make for many an entertaining night with your family and friends, as it's a show that definitely invites you to shout answers at the screen.
Cobra Kai – 8 January 2021
After a shocking cliffhanger ending in season 2, Cobra Kai is slated to return in January with more fight. Based on the season 3 trailer, it looks like Daniel LaRusso and Johnny Lawrence are finally putting aside their rivalry and grow from their pasts. We also see Daniel returning to Okinawa and reuniting with Karate Kid Part II characters, Kumiko and Chozen, while Danny becomes the now-handicapped Miguel's physiotherapist. School bully Kyler is also looking to take up more screen time as he joins Cobra Kai, kicking up heightened tensions between him, Hawk, and Demetri.
Ma Rainey's Black Bottom – 18 December 2020
Based on August Wilson's 1982 play, Ma Rainey's Black Bottom marks the final film appearance of the late Chadwick Boseman, who stars in this adaptation alongside Viola Davis. With Davis taking the form of the magnificent Ma Rainey, and Boseman as a talented and ambitious horn player, two fight their way through the music industry in a 1920s Chicago, up against challenges in race, power, art, and sex.
Death to 2020 – 27 December 2020
Oh don't we all wish for a swift and gruesome death to this dreadful year – and who better to do it than the creators of Black Mirror? Earlier this month, Netflix released a dramatic teaser trailer for Death to 2020, a new special from Charlie Booker and Annabel Jones, with little details on the story except that it will look at the year 2020 from the point of view of a future documentary. The special also boasts a star-studded cast, with Hugh Grant playing a "repellant" historian, along with Samuel L. Jackson, Lisa Kudrow, Kumail Nanjiani, Tracey Ullman, Samson Kayo, Leslie Jones, Diane Morgan, Cristin Milioti, and Joe Keery.
After the success of the Japanese manga series Lupin III, comes a new Netflix adaptation inspired by Maurice Leblanc's series of novels. Set up to be a "contemporary retelling" of the Lupin story, Omar Sy plays Assane Diop, a man who comes across a mysterious book about Arsène Lupin that – based on the trailer – grants him the key to incredible wealth, as well as several lives which he can spend it with. Diop is then inspired by the legacy of Arsène Lupin and sets out to avenge his father who was falsely accused of a crime 25 years ago.
If you're a fan of archaeology and period dramas, you'll probably fancy The Dig. Ralph Fiennes plays Basil Brown, an excavator who, along with his team, discover a wooden burial ship from the Dark Ages on the property of widow Edith Pretty, who is portrayed by Carey Mulligan. As WWII looms near, the excavators scramble to recover the major historical find, and dabbling in a bit of romance while they're at it.
Photo: Netflix