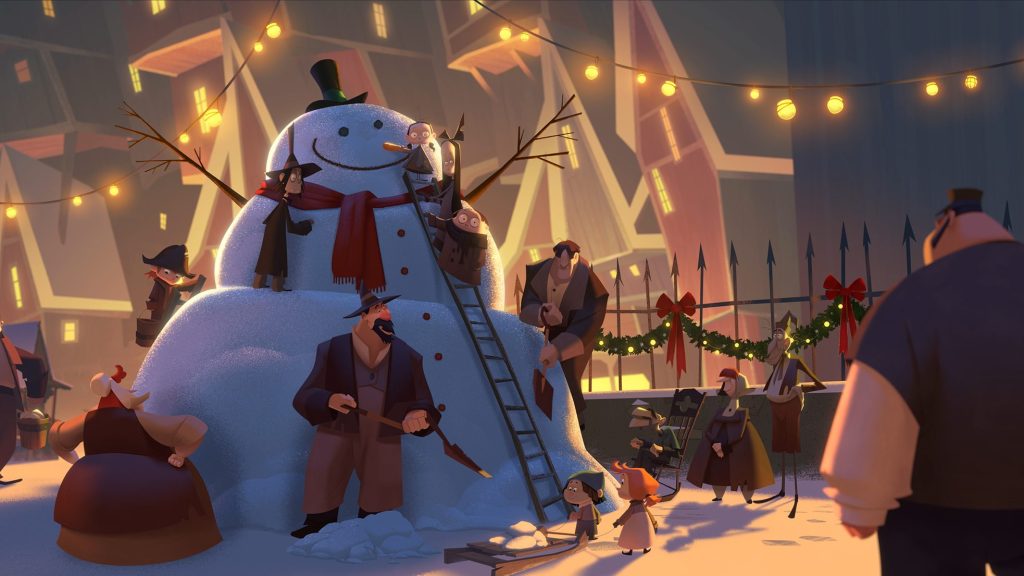 While this year's celebrations will be going through a dramatic change this year, there's one thing that will no doubt remain constant: cosying up to a hot drink and a cheesy but heartwarming Christmas movie.
Fortunately, there's no shortage of choices available on Netflix to help brighten up what's left of the year with some hope and festive spirit at home. From old school classics to the latest jolly films, these movies are here to save Christmas.
In an attempt to avoid being cut off from his family's fortune, a lazy postman teams up with a reclusive woodsman to deliver toys to children of the snowy, decrepit town of Smeerensburg. Funny, sweet, and a definite tearjerker that can be enjoyed by both the littles ones and adults, Klaus features a truly unique and beautiful 2D animation as a welcome breath of fresh air to the overly-saturated 3D-animated films. It puts a charming spin to the Santa origin story and the birth of Christmas traditions to life.
The Christmas Chronicles 2
The Christmas Chronicles is back, and so is Kurt Russell, Goldie Hawn and…that kid from Deadpool 2. This sequel to the 2018 film brings back Kate Pierce, who is now a cynical and unhappy teen who isn't exactly thrilled about spending Christmas in Cancún with her mother and the latter's new boyfriend, Teddy. While trying to make her way home, she accidentally reunites with Santa Claus, and together they have to find a way to stop a nefarious elf from destroying Santa's village.
This sequel to the 2016 Bad Moms film now sees the characters of Mila Kunis, Kristen Bell and Kathryn Hahn dealing with their own mothers visiting them during the Christmas holiday. After dealing with extreme clinginess and a mother's lofty expectations, the Bad Moms trio brings raunchy comedy and good old nuttiness back to Christmas. If you're looking for a crazy good time, you'll likely get a kick out of this one.
The Polar Express is actually based on the 1985 children's book of the same name by Chris Van Allsburg, who also served as an executive producer on the film. It follows a young boy who is invited onboard a mysterious train to the North Pole by its conductor on Christmas Eve. The story then takes him and several other children to visit Santa Claus, where the boy has to find a way to truly believe in the Christmas magic.
What happens when two lovelorn women from two different countries (and cultures) swap homes for the holiday season? Just like how Notting Hill is a classic rom-com, The Holiday is an undeniable icon on the adult Christmas films list. While it does deliver over-the-top sentimentality and a fairy tale premise, it's just sweet enough and chock full of charm that will leave you with a cheesy grin from ear-to-ear.
How The Grinch Stole Christmas
Did the Grinch really steal Christmas this year? Speculations aside, no one does the Grinch better than Jim Carrey in a spandex suit covered in neon, toxic green yak hair. While the term 'Grinchy' can apply to us this year when the Christmas spirit is in short supply, we can still tuck into this holiday classic to help pick us back up again.
We even have something for fans of musicals and the fantastical. This film tells the story of a young girl who spends some time with her estranged grandfather, a toymaker and inventor who drifted away from his family after being betrayed by his apprentice. This movie is packed with show-stopping musical numbers, candy-coloured hues, and an exuberant spirit – perfect for cheering us up this holiday season. It also boasts a star-studded cast, including Forest Whitaker, Keegan-Michael Key, Hugh Bonneville, Anika Noni Rose, and Ricky Martin.
While some of us may or may not have been a tad bit spooked by the titular character back in the '90s, Jack Frost continues to be one of those classic Christmas movies that will still tug on your heartstring and make you reminisce your childhood. After losing his father to a car accident, 12-year-old Charlie encounters the spirit of his father once again in the form of a snowman after playing a magical harmonica.