Incest, rape, orgies… what's next? We take a look back at some of the most memorable steamy scenes from everyone's favourite fantasy epic. 
Let's face it – Game of Thrones is not for anyone with a weak stomach or deep-seated morals.
The HBO hit has never been short on shock factor, especially when it comes to sex. It is continuously pushing the boundaries of depicting human intimacy – incest, rape, orgies, cave sex… what's next?
By now we know this is not only a GoT norm, but a crucial ingredient in the recipe that keeps millions of viewers coming back for more. In honour of a pair so incredibly shipped finally getting together in Season 7 (spoiler ahead!), we're taking a look back at some of the most memorable steamy scenes from everyone's favourite fantasy epic.
Jaime and Cersei in the tower (S1 E1)
What better introduction to the wild ride ahead than the Lannister twins' little romp in the tower. When the unfortunate young Stark catches them, Jaime (cementing himself as the one we will forever love to hate) nonchalantly pushes him off said tower. Jaime then goes on to rape his sister next to their son's corpse in season 4, so we'll consider this mild.
Daenerys and Drogo discover consent (S1 E2)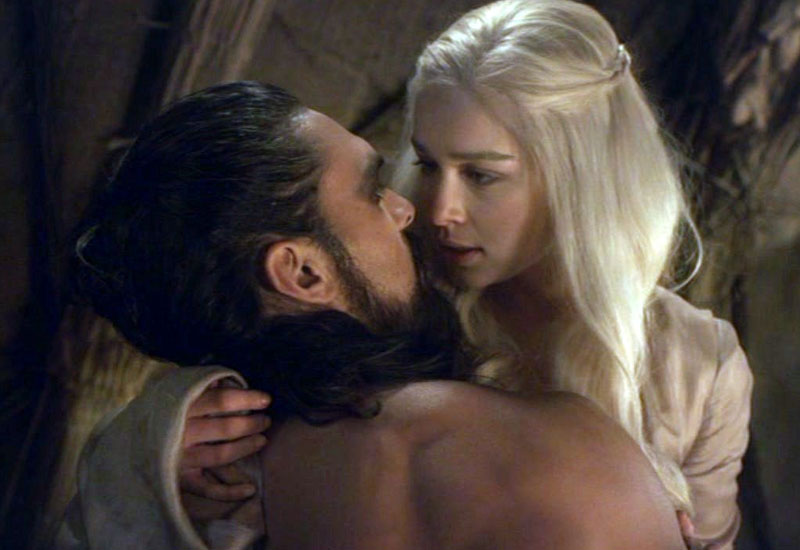 Seasons later and some of us are still not over the death of the legendary Khal Drogo. Daenarys' marriage to him starts off a little forceful, especially in the bedroom, so we rejoiced when things took a turn for some consensual, mutually-pleasing sex. The Mother of Dragons' sexual awakening seems to empower her in other facets of her life, too. The couple eventually go on to have one of the strongest (and briefest) relationships in the series, but by season 5 Khaleesi finds love again in Daario, making her one of the few lucky characters to experience romantic sex more than once.
Stannis and Melisandre make a Shadow baby (S2 E2)
Power-hungry Baratheon falls deep in lust with this dangerous woman, with her promise to bear him a son tipping him into adultery on the very table that held their plans for conquering Westeros. Having later seen the Red Lady's true form in the sixth season, is anyone really surprised that the result of this intercourse was a demon creature?
Robb and Talisa's floor session (S2 E8)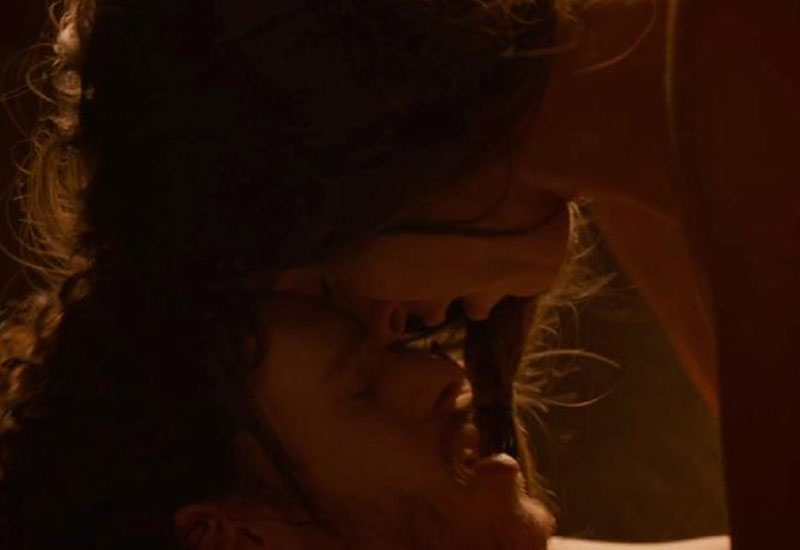 In another outlying sex scene where affection supersedes blinding lust, Robb and Talisa get down and dirty on the floor of Robb's tent after making eyes at each other a lot. It's a sweet moment driven by pure love – truly rare in their dark world. Here they are planning their lives together before all is put to a grisly halt at the Red Wedding. Keep breaking our hearts, GoT.
Podrick's orgy (S3 E3)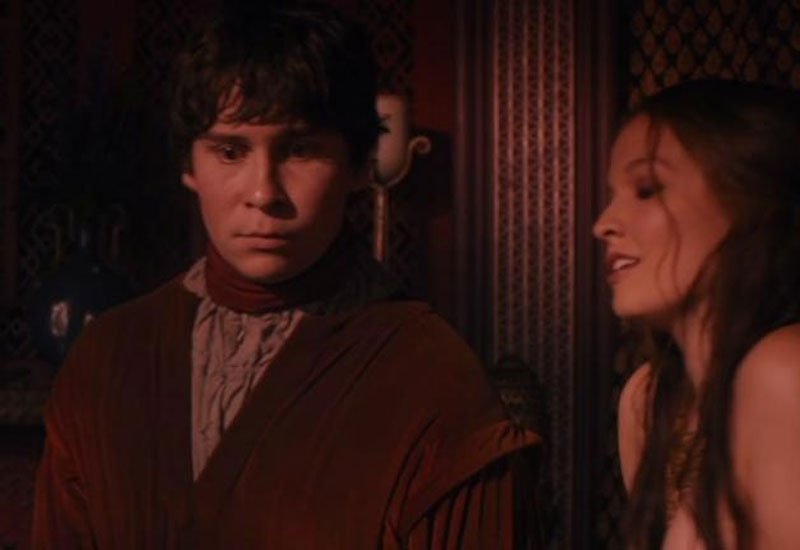 We don't actually see much of this, but you've gotta take your hat off to a virgin who performs so well in his first time with three prostitutes, that they refuse payment. This may be one of the notable orgies, but you better bet it won't be the last. Remember Theon's threesome some episodes later? Yes, it was a trap – because there's always more to the not-just-risqué scenes in this series.
Gendry and Melisandre, featuring leeches (S3 E8)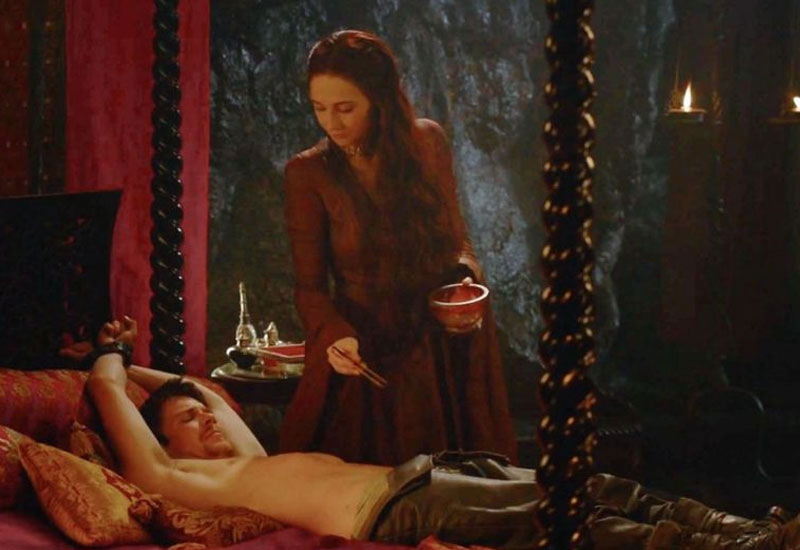 The priestess has her wicked way again, this time getting Gendry all hot and heavy before pulling out leeches for some unconventional foreplay. We now know that his blood was needed for dark magic, but imagine being tied up and having no choice but adhere to what appears as your partner's bloodsucking kink. To be fair, there's hardly ever a clean game of thrones.
Grey Worm and Missandei finally get it on (S7 E2)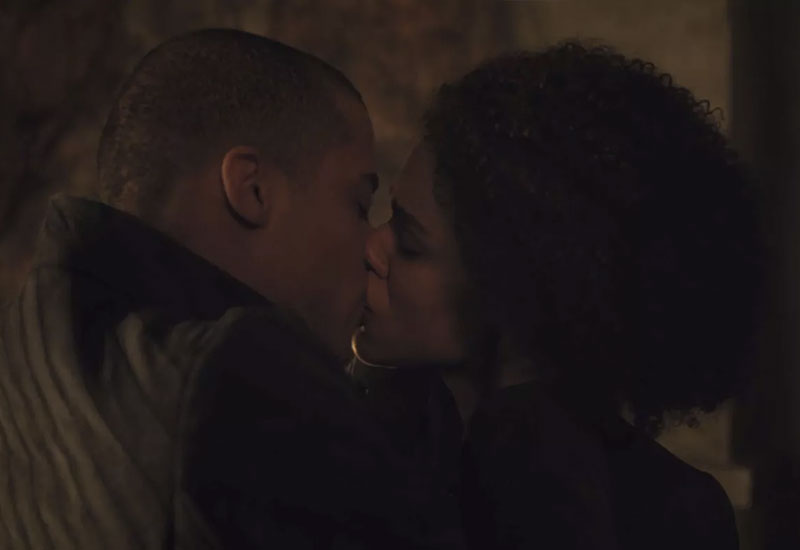 Khaleesi's two loyal followers finally strip down and explore each other in the ongoing season. Much to the delight of fans worldwide, these two declare mutual love and share a passionate night in their final hours together before Grey Worm marches into battle. There's less raging fire and more sensual touch, which is inevitably sugarcoating for the horrors to come. We're bracing ourselves!
Images courtesy of HBO/ Decider.