The cinematic universe of Stanley Kubrick served as the inspiration behind the new Gucci Exquisite campaign. Alessandro Michele, creative director of the Italian luxury house worked with a stellar cast to go all out in recreating iconic scenes from 2001: A Space Odyssey, A Clockwork Orange, Eyes Wide Shut, Barry Lyndon and The Shining. We take a look at some interesting facts behind the Gucci Exquisite campaign.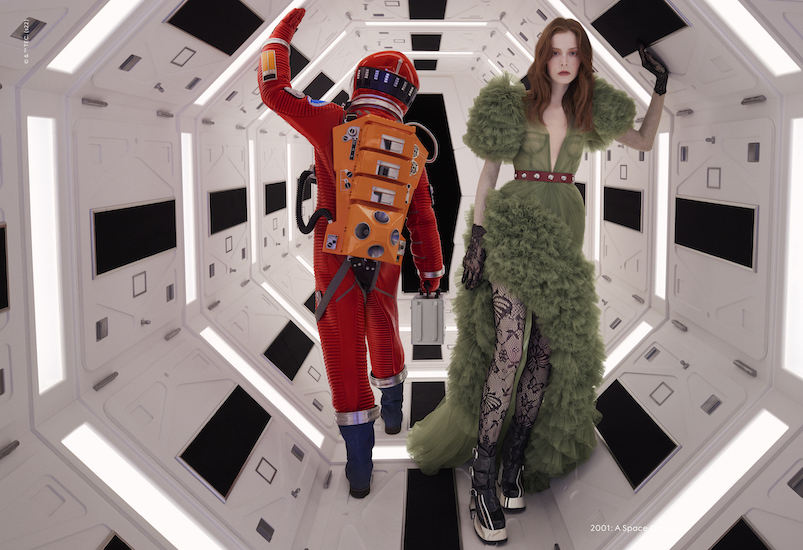 It's an "act of love" 
Alessandro Michele calls Gucci Exquisite "an act of love" and professes that he has always admired Kubrick for his "remarkable capacity in tackling different subjects." Interestingly, Michele describes Kubrick as "a real sculptor of genres and as a " cross-genre" director who was ahead of his time." In a similar vein, the creative director who has been in his role at Gucci since 2015, has a similar approach to merging different genres of style by mixing extravagance and simple elegance in his designs. 
Warner Bros. was involved 
Gucci went to painstaking lengths to recreate Kubrick's compelling cinematography and notably, they did a great job in scouting lookalike actors. The models in the campaign video earn a double-take, especially the young Malcolm McDowell's doppelganger and The Shining twins. It comes as no surprise how they managed to get the costumes to look so on point, as Gucci called on the expertise of Milena Canonero, the longtime costume designer of the Kubrick films to help with the looks. 

A mix of high and low 
Michele explains how the collection is his attempt at mingling high and low by doing so "coherently and synergistically with the grammar of the great director," he says. The collection highlights a few key pieces of the Italian luxury house's partnership with Adidas, mixing notions of high luxury pieces with practical sportswear designs. 

It symbolises a change of state
The Gucci creative director describes that a change of state is very significant in his work. "Clothes get closer to bare life again. They turn into the highly imaginative functional prosthesis, and they do so to tell a story. A story that shatters enchants, tortures and ignites. Because it's the story of the human that dwells in each and every one of us. As Stanley Kubrick knew too well." 

Campaign shot by Mert and Marcus 
The campaign photography is shot by Mert Alas and Marcus Piggott. The photography duo worked with art director and long-time Gucci collaborator Christopher Simmonds with set design direction by Gideon Ponte, (the set and production designer who worked on American Psycho) to recreate Kubrick's cinematic vision. The entire body of work that came out of the Gucci Exquisite campaign is truly a homage to one of cinema's greatest maestros. 
View the full Gucci Exquisite campaign video here:
******
CREDITS:
Creative Director: Alessandro Michele
Art Director: Christopher Simmonds 
Photographers & Directors: Mert & Marcus  
Make up: Thomas De Kluyver
Hair: Paul Hanlon
'With thanks to University of the Arts London, home of the Stanley Kubrick Archive, Warner Bros. Consumer Products, and the Stanley Kubrick Film Archives.'
2001: A SPACE ODYSSEY and all related characters and elements © & ™ Turner Entertainment Co. A CLOCKWORK ORANGE, BARRY LYNDON, EYES WIDE SHUT, THE SHINING and all related characters and elements © & ™ Warner Bros. Entertainment Inc. (s22)
'Replicas of the original costume designs curated by Milena Canonero and Charlotte Walter'. 
*******
CAMPAIGN VIDEO MUSIC CREDITS
 "Title Music from A Clockwork Orange" (from Purcell's "Music for the Funeral of Queen Mary", arr. by Wendy Carlos)
Written and performed by Wendy Carlos, Rachel Elkind
Published by Tempi Music
Performing Rights:  BMI
Courtesy of Serendip LLC
"Clockworks (Bloody Elevators)"
Written and performed by Wendy Carlos, Rachel Elkind
Published by Tempi Music
Performing Rights:  BMI
Courtesy of Serendip LLC