He's breaking all conventions of fine dining with a sharing concept that's taken Switzerland by storm.
What makes a good chef? His food, it goes without saying.
But what makes a good chef relevant?
Europe's youngest three Michelin starred chef Andreas Caminada believes it is in being consistent with keeping up with times and knowing what to give diners along with the changing trends.
He doesn't just talk the talk. He walked it by making a complete U-turn from what he's known for – the owner and chef de cuisine of Schloss Schauenstein, his breakout restaurant in a 12th century castle in Domleschg, Switzerland. Four years ago, he challenged everything he knew and started Igniv, a sharing concept restaurant that's the first of its kind in Switzerland.
"Switzerland is not used to the sharing concept," he recalls of his biggest challenge. "But I said to myself, we have to do something completely different. Maybe let's try this new sharing concept. I've had the castle restaurant for 15 years, it's got 3 Michelin stars. I needed to do something different otherwise there's no point."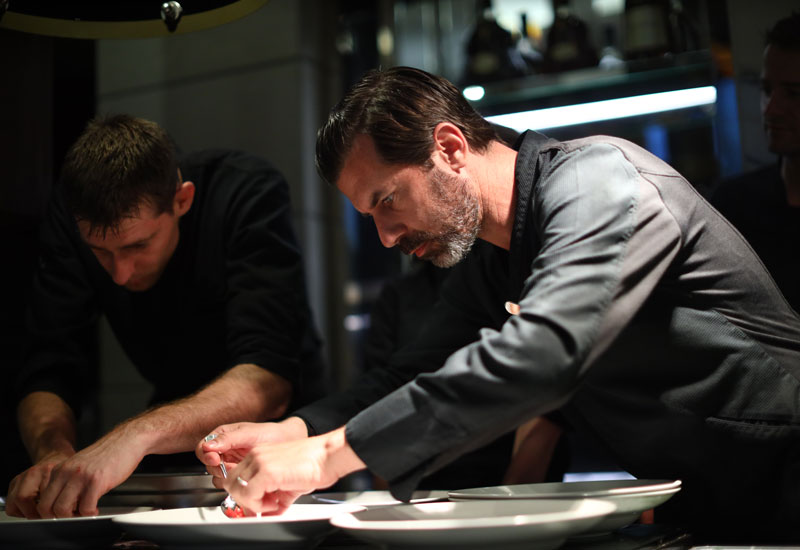 His gut instinct to go ahead with the concept that's as unfamiliar to his native Switzerland as it is difficult to execute has paid off in the four years since Igniv opened its doors in Badrutt's Palace in the skiing region of St Moritz. It gave the stifling Swiss fine dining scene something to talk about and has allowed him the creative outlet to experiment and grow with his food.
"I call it sharing fine dining restaurant," he tells. "It's a sharing concept but with a refined quality to it. We took care of a lot of details so it's atmospheric."
He loves it for how it's been able to bring people closer together.
"There's interaction," he elaborates. "You force people to communicate and interact. Some people also don't like to eat too much. It's very social and people will have to speak to each other. We want to bring people back to a communicating level and create something rich."
Debuting a concept so unheard of in Switzerland isn't enough for the daring chef. He's also started touring Asia – an activity he plans to do every summer with his team – to familiarise himself with the dining habits and styles here and explore ingredients and styles that may be yet known to him.
Such was how he ended up in St Regis KL last November, introducing to the city his brand of culinary ingenuity with a dinner with Hennessy X.O.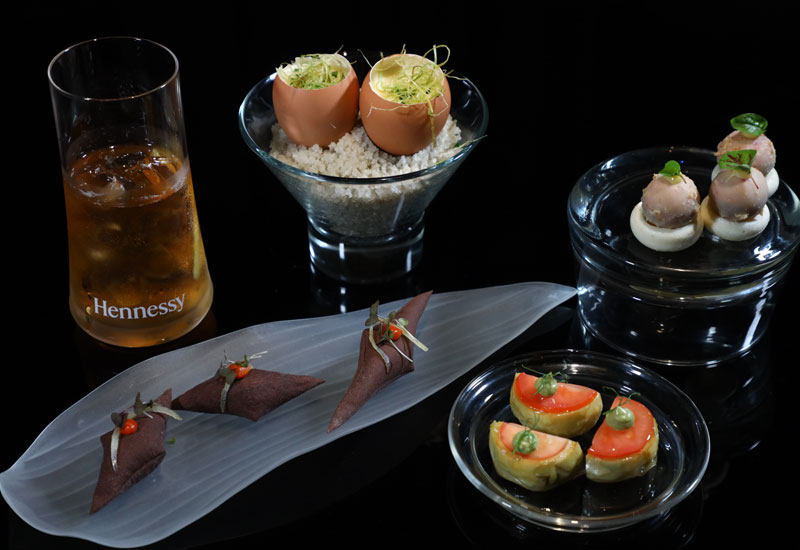 As a nation very much accustomed to sharing, we were still pleasantly surprised by what Chef Andreas and his team whipped up, each small plate and sharing platter a treat for the eyes and mind as much as the lips. Tapas-style small bites make for great conversation starters, solidifying relationship bonds with each bite.
While his menu was not particularly crafted to match Hennessy X.O, Chef Andreas easily picked up parallels between the cognac house and his cooking style.
"Hennessy has quite a history behind them and they put a lot of effort into innovating," he notes. "We are the same. We are always creating new things. Our food needs a lot of attention – we need the right ingredients from the right seasons, the right direction. And when you start cooking, there are a lot of things happening until something is finished so we're like them in that way."
Chef Andreas Caminada was at the St Regis KL as part of the hotel's Guest Star Chef Series. Log on to the official St Regis KL website here to find out who else is in the lineup for 2019.
(Photos: Hennessy X.O)