In the fashion industry, success can sometimes be defined by a single product that has evolved into an entire collection of its own signature – eventually becoming synonymous with the brand. Take for example, Burberry with its checked trenchcoats, Hermes with its Birkin bags, and Christian Louboutin with its rocket-high stilettos.
For Longchamp, it's the Le Pliage bag. This year, the iconic range is celebrating its 25th anniversary and to commemorate this milestone, we've gathered 25 fun facts you may not know about this cult-favourite carrier. Read on to find out more.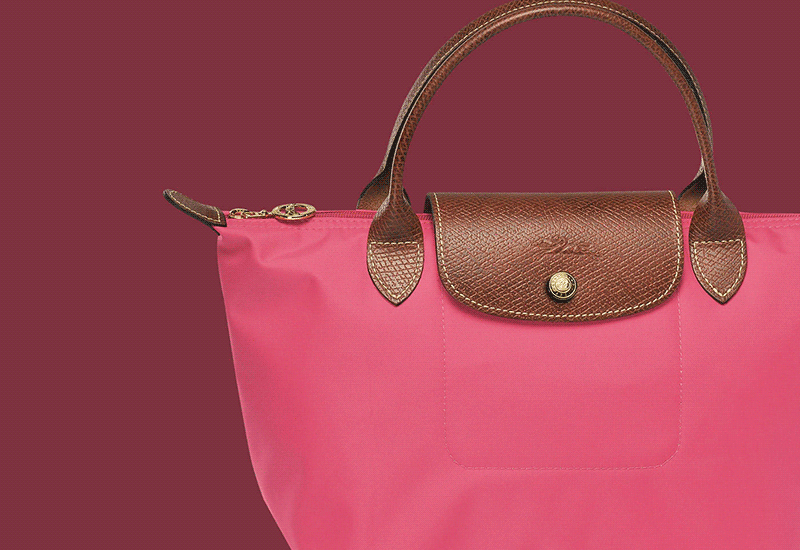 #1 Le Pliage means "folding" in French – aptly pointing to the bag's fold-up design in a distinctive trapezoidal shape, much like an envelope.
#2 The first Le Pliage bag was conceived by the son of Longchamp's founder, Philippe Cassegrain.
#3 Its design was inspired by the Japanese art of origami, which Philippe had learnt about from his travels around the country.
#4 To ensure the bag is light and easy to carry around, Philippe combined Russia leather handles with a nylon canvas body. It is embroidered with the Longchamp logo, a jockey on a horse – a reference to the famous Parisian racetrack in the Bois de Boulogne.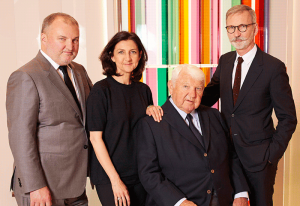 #5 The first Le Pliage collection was launched in 1993, but it only became a hit three years later, according to Philippe.
#6 Its lightweight design, classic shape and wide range of styles and colours are credited as the main reasons behind its success as the brand's best-selling product and one of the world's most iconic handbags.
#7 Despite its popularity, it's actually not the first handbag introduced by the brand. The Longchamp Xtra-Bag was its predecessor, and way before that, Longchamp started out as a business selling pipes.
#8 In 2005, Longchamp began collaborating with Jeremy Scott for a limited-edition Le Pliage collection. He remains the longest partner with the brand today.
#9 Every year, Jeremy infuses his distinctive pop culture influences and ideas into the signature Le Pliage design to give it a new look.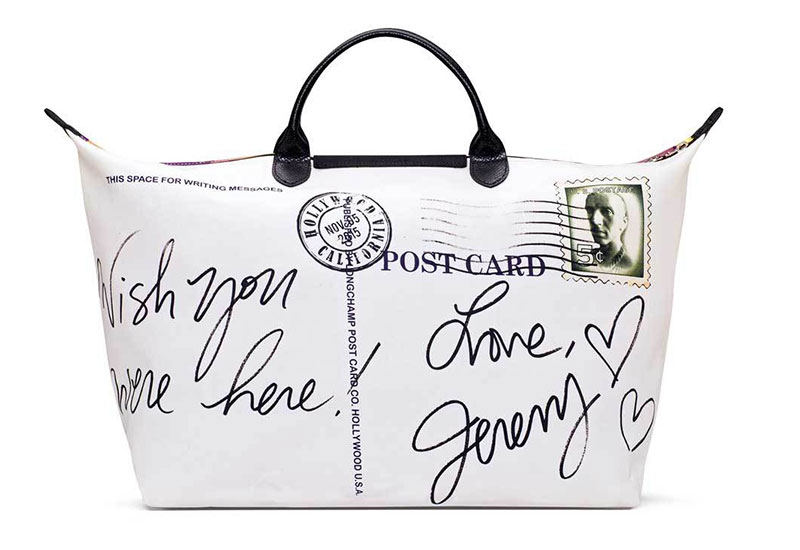 #10 One of his most popular designs for the brand features a postcard from Hollywood signed "Wish you were here", created for the 10th anniversary of their partnership.
Related: Jeremy Scott's newest print for Longchamp brings us back to the fifties
#11 The Le Pliage bag has garnered many loyal fans over the years, including Kate Middleton, Mary Berry, Miley Cyrus, Katie Holmes, Amy Adams and Alexa Chung.
#12 It is sold in more than 1,000 stores worldwide, with the largest market being in its birth country, France.
#13 In 2012, Mary Katrantzou created exclusive prints for her take on the Le Pliage, including elements referencing Vietnamese temple architecture and Thomas Heatherwick's design for their Soho store, as well as orchids and lanterns.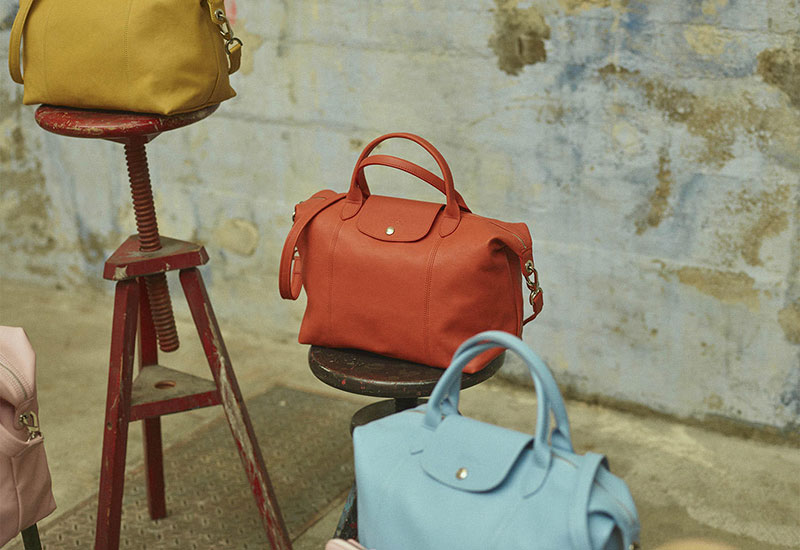 #14 That same year, Longchamp also introduced the first Le Pliage handbag in full leather – enter the Le Pliage Cuir collection.
#15 Then in 2014, Longchamp unveiled the Le Pliage Heritage collection in conjunction with the bag's 20th anniversary. The line features low-key tweaks to the original, including a slightly curved trompe-l'oeil flap and handles.
#16 As modest as the design appears to be, it actually takes four hours to assemble the various leather pieces that make up a single Le Pliage Heritage bag.
#17 Another Le Pliage capsule collection was created together with artist Sarah Morris for Longchamp's 20th anniversary, featuring her abstract artwork in vibrant colours.
#18 Thanks to the brand's many collaborations, the classic Le Pliage tote has been reimagined in over 150 different colours and prints.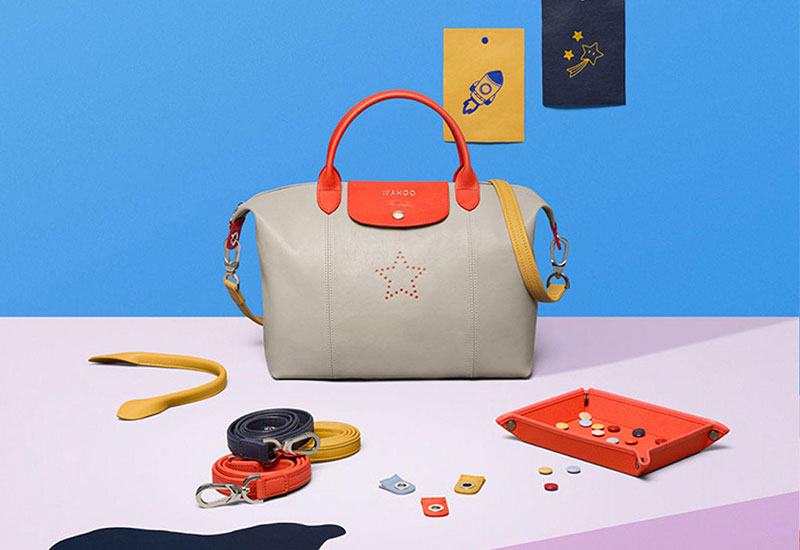 #19 You can now also personalise your own Le Pliage bag from the model to the colour, flap and handles, snap closure, shoulder strap and lining colour.
#20 Though more commonly carried by women, the brand claims that the Le Pliage is meant to be unisex.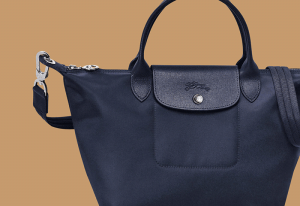 #21 Today, the full Le Pliage family includes tote bags, backpacks, travel bags, crossbody bags and document holders.
#22 Longchamp has sold more than 32 million Le Pliage bags in over 1,800 stores to date.
#23 Ten Le Pliage bags are sold every minute worldwide.
#24 For its 25th anniversary, Longchamp is giving the line a casual, college-themed update, under the name Le Pliage Club.
#25 The new Le Pliage Club design features the same signature nylon canvas with a flap and handles in Russian leather, but with a subtle interplay of colours. The embroidered Longchamp horse, the snap closure and the dyed edges now come in four clashing colourways: yellow on gunmetal gray, red on navy blue, orange on khaki and navy on garnet.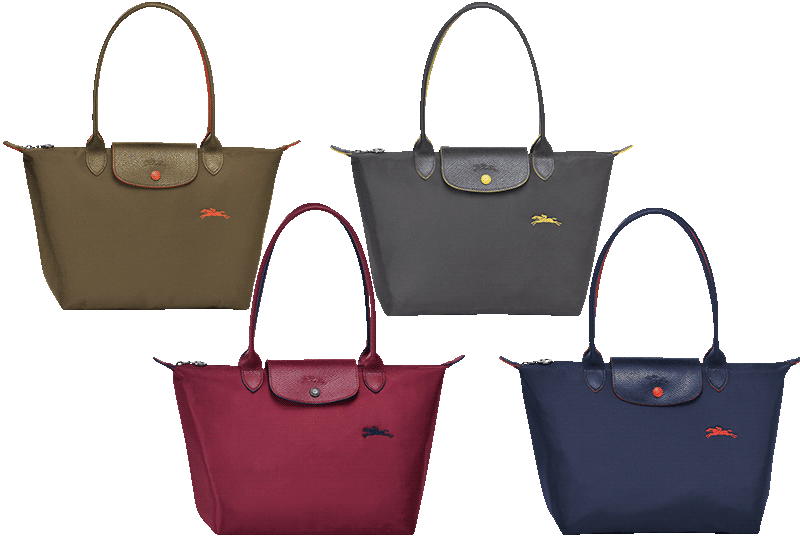 For more information or to purchase the new Le Pliage Club collection, log on to Longchamp's website here.
Images: Courtesy of Longchamp