Whoever said all that glitters is not gold is not completely accurate. As it turns out, some things in this world are. A prime example: the Dolce by Wyndham Hanoi Golden Lake hotel in Vietnam, which calls itself the "world's first fully gold-plated hotel".
Opened earlier this year in July, the 25-storey luxury hotel took roughly 11 years of construction to develop, costing about $200 million. Located on the bank of Giang Vo Lake in the downtown Ba Dinh district of Hanoi, the hotel-apartment complex is built by the Hoa Binh group and debuts as the first Dolce property in Asia.
And yes, almost everything – from the façade of the building to the toilet seats, down to the cutlery – is dripping with locally sourced gold. We could go on, but you'll have to see it to believe it.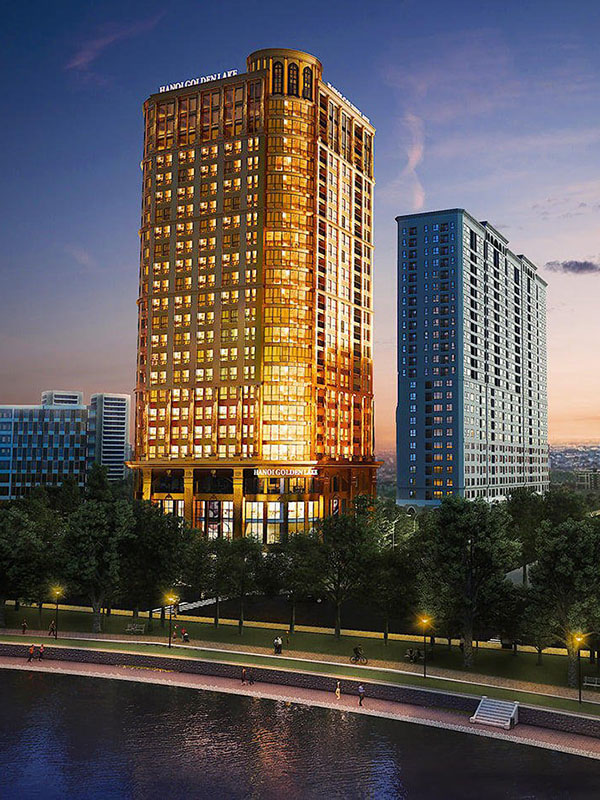 With 54,000 square feet of gilded ceramic used on the hotel's exterior walls to achieve its shining glory, it's hard to miss this glitzy landmark even from miles away. But the 400-room property is no less impressive on the inside too.
At the entrance, guests will be greeted by hotel staff through large, ornate doors gilded in gold, which open to reveal a gold-plated ceiling. Gold accents further highlight the wallpapers, chandelier and furniture for a grand welcome.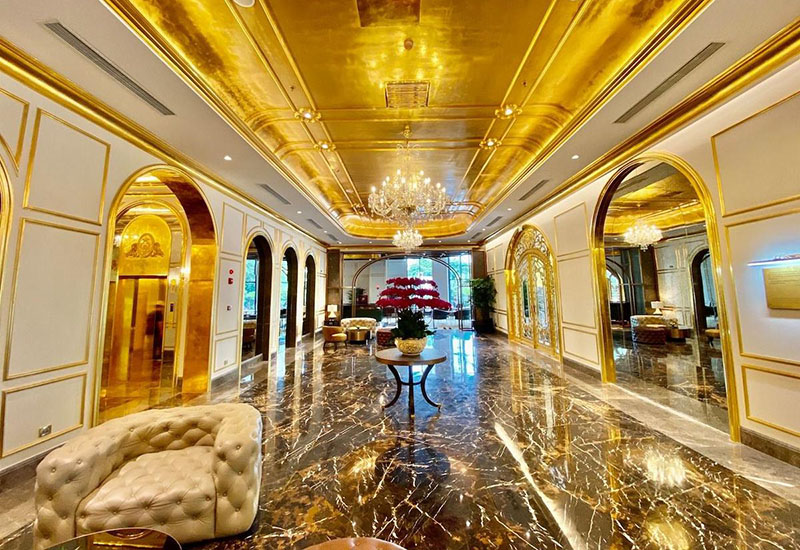 After checking in, you'll have to make your way to your room in golden elevators that look like they might transport you to a top-secret vault.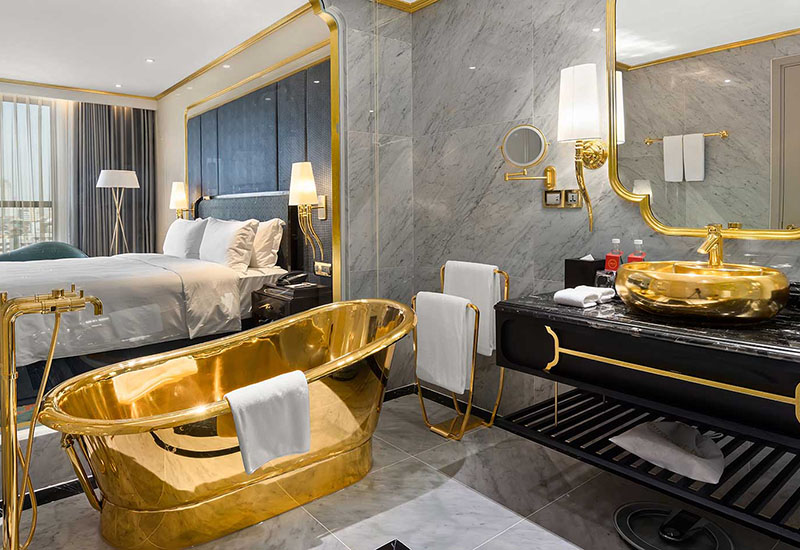 While your beds won't be made of gold (for your own comfort), the bathroom is where the symbol of opulence continues to shine. There's a gold-plated bathtub, sinks, taps, toilet seats and fitting gilded in gold, with marbled floors and walls completing the picture.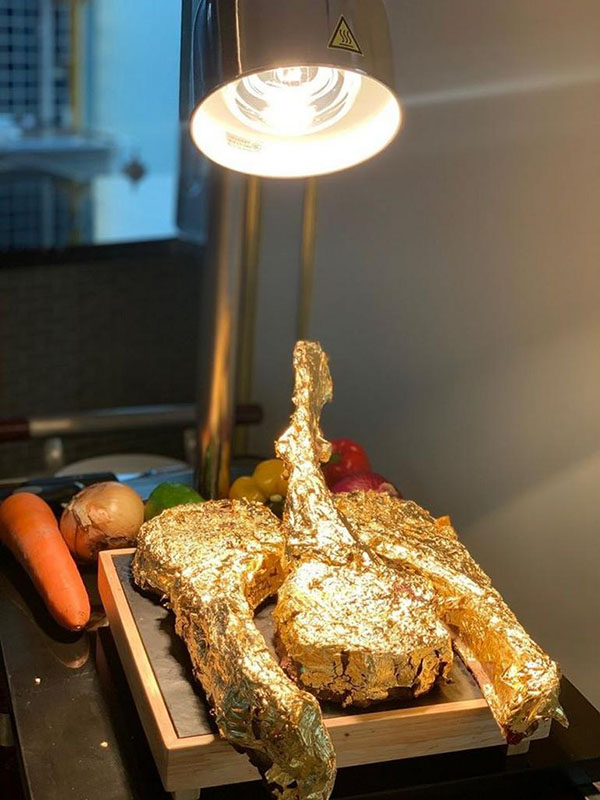 Even the food and beverages at this hotel are not spared of gold treatment. Expect dishes to be topped with gold flakes and served with gold cutlery, whilst drinks arrive in gold coffee cups for good measure!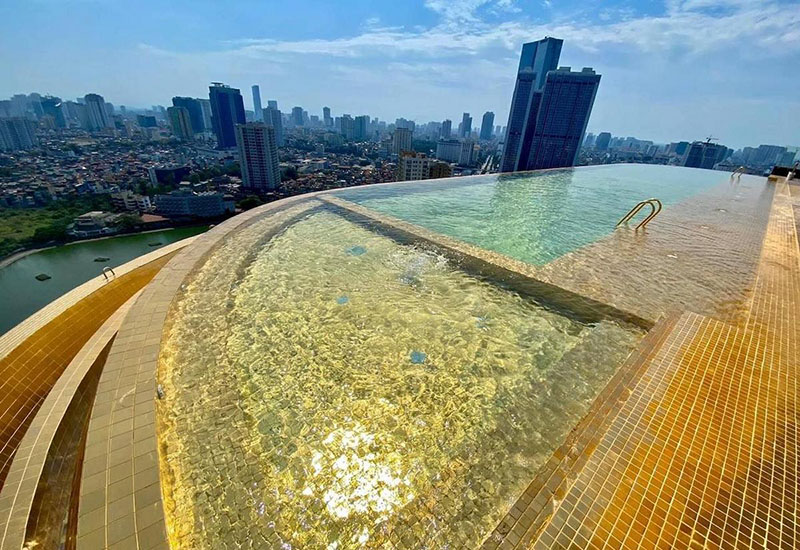 That's not all – the rooftop of the hotel features a 24K gold-tiled infinity pool covering over 200 sqm of space. It overlooks Giang Vo Lake for dreamy, Instagram-worthy views too – although the pool itself will have enough of your attention.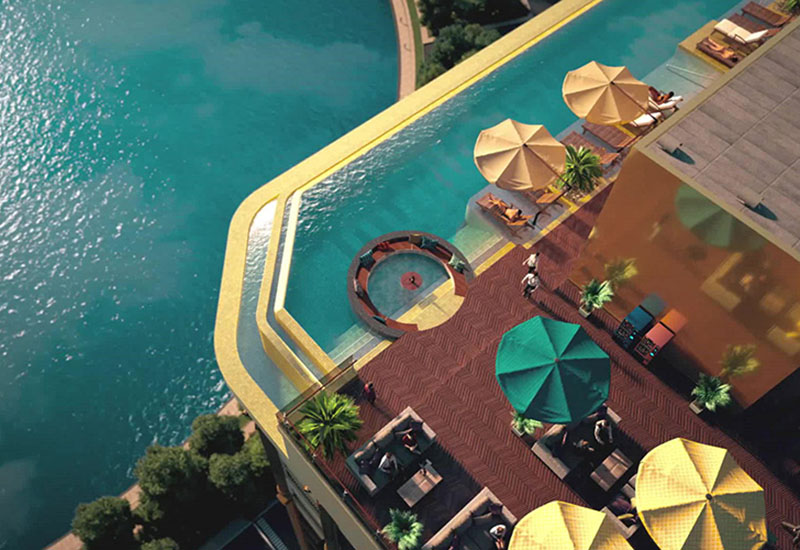 For more information, log on to the official website here.
Photos: The Dolce by Wyndham Hanoi Golden Lake